Post by Admin on Jan 25, 2021 21:42:21 GMT -5
LIVE FROM THE SILVER STATE BALLROOM
at the historic ELDORADO CASINO in RENO, NV
FEBRUARY 6, 2021
INT. ELDORADO CASINO -- BACKSTAGE
The backstage area is a zoo tonight, compared to what it usually is for a normal REVOLUTION episode. Not surprising, really, as the company is working to ensure their first (and possibly biggest) supershow of the year is a success. The view finds MAD MAX roaming through the chaos, already in her gear: a Harley Quinn/Jigsaw influenced outfit in design, with a punker sleeveless leather jacket with big spikes coming out of the shoulders and mini ones coming out on either side of her chest. She approaches a stagehand, and he looks a little wary considering her intimidating look.
MAD MAX
Hey, have you seen a seven-foot distinguished-looking bad boy around?
STAGEHAND
Who? Mr. Strader?
MAD MAX
Well, who the hell else do you think I meant? Super Shredder?
STAGEHAND
Super Shredder?! Is that a new appearance on the card? Oh my God, things always changing, and they never think to say, "hey Brian, we have some new talent coming in". Unbelievably rude. And another thing...
Brian, the stagehand, walks away, muttering to himself and leaving the French Canadian Destroyer standing there shaking her head before she eventually starts in another direction looking for her manager, Scott Nash Strader.
CUT TO:
INT. THE SILVER STATE BALLROOM -- THE RING

TAG TEAM TOURNAMENT TEASER
SMILES PROTECTION AGENCY vs THE GEM STONES
We start the night's action with tag team competition, with the debuting Gemstones causing an absolute ruckus. The drummer, Emerald, had a snare tied around over her shoulders, and is smashing out a beat as Ruby & Diamond are serenading the crowd. Grabbing a microphone, Diamond yells out.
DIAMOND STEELE
And now with your solo on lead guitar... SAPPHIRE!!!
Sapphire has her guitar in the ring, and she starts absolutely shredding, causing the SPA to kinda get a bit disgruntled. Sapphire gets up at the official, getting into her solo and taking his attention completely as outside, Diamond reaches into her own guitar case. Taylor Samuels, suspecting something is up, goes to confront Diamond, when...


*THUNK*


Diamond had pulled a steel pipe out of her guitar case and she cracks Taylor over the head with it, the noise not carrying due to the guitar shredding and the noise of the drums. Jessi wheels around in the ring, but before she can do a damned thing, Diamond is on the apron and wallops her with the pipe again.


*THUNK*


As if on cue, Sapphire finishes her solo, tossing her guitar to Ruby on the outside, and Neil Rana finally focuses on what he's supposed to... not even seeing Taylor laid out at ringside as Sapphire hoists a semi-conscious Jessi onto her shoulders. Kate dives off the ropes, pipe nowhere to be seen now, hitting the Super Diamond Dust. Sapphire covers, leaving a confused official no option but to count the three.
WINNER (VIA PINFALL): THE GEM STONES
The rockers start grabbing their instruments, playing their own entrance theme to signify victory, as the reactions from the fans are distinctly mixed.


CUT TO:
INT. ELDORADO CASINO -- BACKSTAGE

There's a stacked card top to bottom tonight, something that makes Savannah all the more excited. She's seated in front of a vanity, putting the finishing touches on her gear. Gummy bears of varying colors are carefully glued to her hair, which is tied into a fishtail braid for a clean finish. Part of her worries that it's such a waste of good sugary sweets to go out in the ring with tonight. But, a bigger part of her is more focused on the large task she faces tonight. But, all doubts are silenced at the sound of high pitched squealing as her son comes trundling into the area. He comes to a skidding halt, eyes growing as wide as saucers as he takes in his mothers appearance. Both hands pressing to his cheeks as lips form into a soft 'O' before he breaks out into an excited grin.

KYLER SUNSHINE
Mama, you look so pretty! But, that's sooooo much candy. What are you gonna do with it when you're all done after tonight?

He coos gently, moving closer as tiny hands poke at the candy that decorates her hair and gear. All things she's put together on her own. Much to the chagrin of the slight burns her fingertips and hands had suffered during the process. But, it was all worth it. Especially seeing how excited her tiny tot was for the big reveal. She grins happily, scooping the small child up into her arms. Carefully sliding out of the chair she's been sitting in for what feels like forever, she finally gets a chance to stretch her legs. Cradling her baby boy in her arms as she peppers kisses across his face, to which he squirms around before being placed on his feet before her.

KYLER SUNSHINE
No more, no more kisses, mama! Pleeeease!

SAVANNAH ANDREWS
Now, where did you come from, little one? Y'know, there's a lot of weirdos around here, kid. We talked about this. You hangout with good ol' uncle Don or Miss Dragon Lady or…

She's interrupted by the sound of gentle throat clearing. Just a few feet behind her, Gretchen Devereaux stands with a microphone clutched in her hands. Savannah flashes her a quick grin before holding out her hand towards her son.

SAVANNAH ANDREWS
You wanna do a cool thing with me? I gotta talk to this really nice lady over here for a bit. But, you can totally come with me.

She flashes a grin to her son who nods excitedly as he takes his mothers hand. The pair walk over towards Gretchen as Savannah lightly squeezes her son's hand. Both wearing matching smiles as they finally come into proper view.

GRETCHEN DEVEREAUX
Hi, Savannah! Hi, cutie! Okay, tonight is a pretty big night. I'll try to keep this quick, sweet, and to the point.

SAVANNAH ANDREWS
Hey, Gretchen! Oh, I'm just so excited to be back on the card. Feel like it has been awhile, but I'm looking to make my mark for sure!

GRETCHEN DEVEREAUX
First things first, I am absolutely in love with your gear! Is it true you made all of this yourself?!

SAVANNAH ANDREWS
Thank you, it took a lot of small burns to the hands and fingers from my glue gun to finish this. Kind of sucks to feel like a waste of good candy, but that's okay! It's all worth it.

GRETCHEN DEVEREAUX
Oh, for sure! I totally believe you're going to go out there and kick so much butt. How are you feeling heading into this match tonight?

SAVANNAH ANDREWS
Well, it's a little bit of an anxious feeling. I've faced people bigger and quite frankly, no disrespect, a lot badder than Max. So, I'm going into this with the same mindset I would go into this if it were any other big baddie I've taken on before. I'll keep a clear head, I'll fight the good fight, and, of course, I'll do my best to come out on top.

GRETCHEN DEVEREAUX
It's been a bit of a rough time for you here so far, hasn't it? Do you feel like tonight might be a little different for you?

SAVANNAH ANDREWS
Eh, it's had it's lows. That's for sure. But, I've got a good luck charm at my side tonight. Plus, I'm confident about this. Whether I win or lose, I'm going out there with my head held high, and I'm putting up a good fight. Regardless of the outcome at the end of this. That's just… how it works sometimes, right?

GRETCHEN DEVEREAUX
You have no idea how happy I am to see you so optimistic about things. If you don't mind me saying so, it's almost like a dark cloud's been lifted.

Savannah nods, looking down at her son.

GRETCHEN DEVEREAUX
Speaking of your match tonight, do you have any words for your opponent, Mad Max?

SAVANNAH ANDREWS
I'll keep this short and sweet: I've got a lot to prove. I still feel like I have to earn my place around here… and that's exactly what I'm going out there to do tonight. No games, clear head, no distractions. Head held high and ready to rumble. I just hope Max is ready for a real fight… because that's what I'm going to give her.

GRETCHEN DEVEREAUX
Well, there you have it folks! Give it up for my new favorite wrestler, Savannah Andrews!

Savannah flashes a bright smile, waving goodbye, as her son waves beside her. Now cradled in her arms as she holds him carefully on her hip. The pair blowing kisses before the scene fades out.


_____________________________________________

CUT TO:
EXT. ELDORADO CASINO -- TALENT ENTRANCE

We find ourselves outside the arena, where the loud sound of a motorcycle fills the silence before a rented Harley Davidson Wide Glyde can be seen rolling up to the back door where MAD MAX is waiting. The rider parks up at the building with her standing there, hands on her hips, as he steps off the motorcycle, cutting the ignition. She doesn't look pleased with him whatsoever and it's clear this is her manager SCOTT NASH STRADER even before he takes off his helmet.

MAD MAX
What the hell, Scott? Where have you been?
SNS
Babe, it's okay. I'm here... in the flesh.
MAD MAX
She slugs him in the shoulder, feigns pain, and he unleashes a devilish smile that's clearly just as powerful as the trademark family sneer. Max visibly relaxes.
SNS
Don't worry about Identity Crisis Andrews; you got her.
MAD MAX
That's not what I am worried about, Scott.

Her eyes drift to the camera for a moment before going back to him.

MAD MAX
We'll talk about that later. Right now, though? We gotta say a few things to the camera, don't we?

The big man shrugs.
SNS
Yeah, I guess so. Since buddy over there's been filming this whole thing. OI! You there. Get a bit closer, why don'tcha? We passed our nasal swabs.
The cameraman comes right quick, not wanting to piss off the 55-year-old giant of a man. Max stands to Scott's right, rubbing her hands together as the big man begins his spiel.
SNS
You know how long I have been in this business? Over two decades so I have seen talent come and go. Uprising is full of breakout talent, but none of them are as mean as the Thunderdome Hoe, the bitch with the most, Mad Max. She is the French Canadian Destroyer, and Savannah Andrews is not lucky going up against this woman.
Max glares into the camera, clenching her fists, rubbing them together. Scott motions for the camera to zoom on the young talent's face.
SNS
Look at that determination in her eyes. She is a future star, and I like I said I know what the hell I am talking about! It'll be your own mistake if you don't get yourself ready. Mad Max is coming, and fuck off with your phrasing.
The duo walk by the cameraman as we head back to ringside.
CUT TO:
INT. THE SILVER STATE BALLROOM -- THE RING

THUNDERDOME CHALLENGE
MAD MAX vs SAVANNAH ANDREWS
Mad Max clearly wants to make a statement as she launches herself from the corner with a springboard knee to the face before the bell even finishes ringing. Savannah goes down hard but fights back immediately, getting the knee up in time to prevent a springboard splash and then she catches the rope to break away from an attempted koji clutch! Back up, Max fires in some heavy-handed shots, driving Savannah back into the corner only to eat an elbow for her troubles. Savannah nails a foot stomp and dropkick combination and then takes Mad Max down with a Frankensteiner! She reaches down to help Max up and staggers back thanks to a cheap eye rake! Mad Max pops up, smirking as she grabs Savannah, slamming her right back down with a vicious implant DDT that sends candy spraying in all directions – HOLY SHIT! Savannah's clutching her head and Mad Max waits for her to sit up before going for a running knee to the face – DENIED!! She crashes and burns as Savannah ducks and then she catches Mad Max with the CANDY CRUSH (ground manjigatame). It looks like she might tap out but Mad Max manages to catch hold of the bottom rope and Savannah breaks the hold immediately.
Mad Max scoops Savannah up, only to be on the receiving end of a hard chop to the chest and then another! The Thunderdome Hoe staggers back, and that's all Savannah needs to try and turn the tide back in her favor. She drives a few more chops into Mad Max's chest before going for a stunner only to have Mad Max reverse it into a backbreaker! Mad Max is fast to her feet – OH NO! Welcome to the THUNDERDOME (Stone Cold Stunner) OUT OF NOWHERE – HOLY SHIT NO! Savannah reverses it and slips out the back door, nailing a superkick before Mad Max can turn around! OH MY GOD, IT'S BURST YOUR BUBBLE (superkick into a German suplex)! Mad Max seems dazed as she crashes down and Savannah pounces, hooking both legs for the cover.
ONE!
TWO!
THREE!
WINNER (VIA PINFALL): SAVANNAH ANDREWS



CUT TO:
EXT. ELDORADO CASINO -- PARKING LOT

The camera cuts to the parking lot where a distinctive, to those in the know (however few), '72 Jaguar XJ12 rolls into the talent's parking area. MATTHEW KNOX can be seen in the worn leather interior, taking a moment to seemingly caress the steering wheel before stepping out, yanking an ancient Adidas duffel bag with him. As he closes the door, he drops to a knee, bowing his head and saying a quick prayer before paying the roof of the car a hard slap and yanking the bag up.

The fans who have gathered for early admission pop as soon as they see the svelte, specter-like man and his obvious limp. He pays them a wave and a nod, but his face is all business as he walks past them and into the talent's entrance, paying the only bit of inheritance that mattered to him one final glance before the door closes, encasing him in what would most assuredly be host to more years shaved from his life.

KENZIE
Unfashionably late, I see. You know tardiness is against UPRISING, LLC policy, right Maggy?

Matthew doesn't break his gait, but the camera pans out to show that he has picked up a passenger in none other than KENZIE. His face remains deadpan, the only sound that escapes him is a soft grunt. He averts his eyes to her, then shakes his head, choosing not to answer or take the possible bait. With a curious bite of her lip and a thumb under her chin, the chipper signee persists as she stands in Knox's path.

KENZIE
You're staying hydrated, I take it? Eat foods with a low glycemic index to improve your endurance? I'm sure you got at least seven hours of sleep, too. You'll need to be at your absolute healthiest if you're expecting to have any chance of winning against Dunn tonight!

Matthew stops then, staring down at her. He takes in a deep inhale, then exhales slowly. He leans forward, doing his absolute best not to flinch as his body cries out from the effort for the small bit of movement.

MATT KNOX
I've had all I need to beat that son of a bitch. And none of it ever included concern or advice from the ditz that hit me with a chair when I was about to choke the worthless life out of his empty head. Now, move. Please.

With a wry smile, Kenzie steps aside with a grand arm gesture and a bow. Matthew sizes her up and shakes his head before brushing past her and continuing down the hallway. The last view is of Kenzie watching him go, a little hint of a smirk present on her lips before the show scene is replaced with an advertising segment for the next episode of THE RESTAURANT, only on SplatTV!


_____________________________________________


CUT TO:
INT. THE SILVER STATE BALLROOM -- THE RING

KENZIE vs BLADE LOPEZ
The bell sounds and Kenzie immediately has to avoid a right hand from Blade who's wasting no time in his assault. The debuting Kenzie takes a second jab to the face that puts her on her heels for a second, ducking under a right hook and getting behind Blade before wrapping her arms around his waist and trying to lift him up in a German suplex – DENIED! The Career Killa is able to counter and spin around, only for Kenzie to strike him in the midsection with a knee lift and hit the ropes, coming back with a dropkick to the side of the head. Blade rolls to his side, getting up a little gingerly as Kenzie comes from behind with a vicious looking chop block that drops him down to his knees. She grabs Blade's right leg and lifts it up as high as she can before slamming it straight down to the mat. Blade rolls to his back, holding his leg, allowing for Kenzie to start sending kicks down on him until Blade is able to back up to the ropes. Ref Stef insists that Kenzie back off so she does for about ten seconds before rushing in behind the ref. Unfortunately, plays right into Blade's hands as he catches her with a quick back elbow to the face, followed by a stiff uppercut that knocks her flat on her back.
Grabbing her hair, Blade picks her up and powers her up on his shoulder, going for a running powerslam but the damage to his leg compromises his mobility long enough for Kenzie to wriggle free and drop behind him. She kicks him right behind the knee, getting a scream of pain from Blade. Kenzie hits the ropes before him and drops him backwards with a running leg lariat. She calls for Blade to get up, which proves a little difficult for the older competitor as his knee has been targeted successfully, but he manages, clearly unwilling to end the fight. He staggers up slowly, but not slow enough as Kenzie times it out perfectly with a beautiful 540 Tornado Kick – Dream Catcher – and knocks Lopez flat. Rather than go for the cover, she grabs his legs and sets up her intricate Phoenix Leglock. Once she spins herself down to the mat and twists Blade's ankle, he has nowhere to go and has to tap out! The ref calls for the bell and after a brief pause Kenzie releases the hold and allows Ref Stef the honour of raising her hand.
WINNER (VIA SUBMISSION): KENZIE
CUT TO:
INT. ELDORADO CASINO -- BACKSTAGE

The camera cuts to some dreary, dimly lit room somewhere in the bowels of the Eldorado Casino. We find MATTHEW KNOX seated in a steel folding chair, doubled over with his elbows resting on his knees. His hands are taped, ready for a fight. His shoulders rise and fall steadily with each breath. Before he speaks, he clears his throat once.

MATT KNOX
I spoke poorly when we first met. Sure, your perception of my words was way far off base, but you coming to the conclusion you did wasn't any kind of stretch, Scott. And I'll say it now, I'm sorry I made you feel so small.

Matthew slowly raises his head to peer into the camera. He's obviously been through a fight, scuffed up and bruised. His eyes remain as sharp as ever, even if they share the exhaustion the rest of his body does.

MATT KNOX
I'd like to think it could be different. But I don't. Not worth the energy. Hell, considering the opportunities I've come into in this industry lately, this whole thing feels like an exercise in futility. It could have been just a fight. A match where we beat the hell out of each other, someone wins, someone loses...and we move on.

He shakes his head, eyes narrowing and mouth twisting into a small scowl.

MATT KNOX
But no. No you had to try and swerve out of your lane, be more than you are. Play at being able to play mind games. First you bring up my children, taking shots at me as a parent. Frame it as you just repeating my words and...exposing their intent, I think? Frankly I'm not sure what you were thinking. Hell, I'm not sure if you're capable of critical thought if I'm honest.

He stands from his seat, the stiffness of his ravaged and injured body evident as he does so.

MATT KNOX
That was awful enough, honestly. Got me mad, so maybe it did work. Broken clock and all that. But then you doubled down, Scott. I challenged you to this match tonight and you decided the best tactic was to get the guy you ran from a fight with, and continued to sneak attack, even angrier.

His face fully commits to the scowl now, brow furrowing. His breath and voice come out in a shaky rasp, quaking with an unchecked anger.

MATT KNOX
You said her name. You brought her all the way into this, and sealed your fate with one stupid statement. All these terrible decisions, Scott. Your thin skin, your empty head and your petulant, childish temper have all led you to this night, here in Reno. And they've led you to me, finally.

He takes a deep breath, reaching up and wiping his hands over his face, releasing a calming exhale and nodding once.

MATT KNOX
You said that I wanted this. I couldn't live without this. And you were right, Scott. I can't exist without this fight. This violence. This sense of purpose. Luckily, though...You CAN exist without it, Scott. The world is full of people like you. Stopped developing after High School, devoid of etiquette outside of locker room etiquette. Strong back and a simple mind? You'll have a great career in manual labor. And I wish you all the luck in it, Scotty

His eyes shift to the lens, staring into it, into Scott Dunn's eyes, his very soul.

MATT KNOX
Because after tonight, when you Quit? You'll never have a future here in Uprising. Maybe you'll find a niche in some other place where mental midgets trapped in physical specimens still matter, but then someone bigger, stronger, and dumber will come and humiliate you to the lowest common denominator. And then you'll be gone from there too, only to be replaced by another cookie cutter meathead. And then, on the tongue of anyone in our business and most any tongue outside of a teenage supervisor, the name Scott Dunn will matter…

A smirk, dripping with malice. The voice, now barely a whisper but dripping with a venomous intent.

MATT KNOX
Nevermore.



CUT TO:
INT. THE SILVER STATE BALLROOM -- RINGSIDE

The arena lights dim and fog rolls in on the entry stage, the patter of rain fills the arena as the big screen displays a rainy alleyway outside a movie theater, advertising "BABE: PIG IN THE CITY."
A gaunt figure in a luxurious ball gown walks out onto the stage, carrying a matching parasol to her outfit. The look is ruined a bit by the pink and black vinyl mask she's wearing, combining the aesthetics of a gas mask, lucha libre mask, and a bridal veil.
The pig-bride dances in the rain as a towering, muscular figure emerges from behind her, dressed in a similar mask, though with a blue and orange theme and matching wrestling tights. As the bride dances unaware, he grabs her with a waistlock and delivers a hellacious deadlift German suplex on the ramp, rolling to his feet and walking off into the darkness.
A second man in a pig mask, this design matching the bride's, but in brown and black, walks out in a tuxedo and a top hat.
Mary?
The ominous tones of Queensryche's "Electric Requiem" begin as the groom kneels over his fallen bride, still bent in half from the suplex. He reaches down and strokes her cheek as the red and blue of police lights appear to either side of the entryway.
Even in death
You still look sad
Black masked police officers appearing, grabbing the groom as he clings to the body of his dearly departed dearly beloved.
Don't leave me
Don't leave me, here
The lights go out and the movie theater alley is replaced by prison bars. The man is now in an orange jumpsuit, strapped into an electric chair, surrounded by additional pig-cops. The bride's mask on a silver platter on the table in front of him, an apple in its mouth.
I want what you feel, believe me
Turn the current on
The lights flicker and electricity surges into the chair, the pig-groom catching fire and going up in flames. The lights dim once more as he burns, reaching out from the chair and reaching for the mask as he burns to embers, managing to only knock it from the table. A spotlight shines down on his skeletal hand, the big screen showing a close up.
The gauntleted hand of Kalinda Kriegsdottir reaches down, lifts the charred, half skeletalized zombies to his feet. The two stand in the spotlight and she smiles and pushes an electric guitar into his undead hands.
KALINDA KRIEGSDOTTIR
Here I am, born to be Queen
I'm the Princess of the Universe
The lights come back up, revealing an undead band composed of a spectral drummer banging on skulls, the skeletal pig-bride on bass, one of the pig-cops on a keytar, and Kalinda as usual with a mic in hand. Kalinda's usual two tone lilac and navy, instead having a white button up vest fastened by police badges, an aqua dress shirt, black tie, and an aqua dress skirt, cosplaying as Brandon "Big Boss" Babel from the cartoon COPS.
KALINDA KRIEGSDOTTIR
Here I belong, fighting for survival
In a world with the dimmest wrestlers
And here I am. I'm the Princess of the Universe
Here I belong, fighting for survival
I've come to be the ruler of you all!
Kalinda strides down the aisle, accompanied by her undead musical accompaniment as she grows through her lyrical entrance, hopping up onto the ring apron, then to the top rope, and balancing perfectly and walking a circle atop the ring ropes as she continues to sing.
KALINDA KRIEGSDOTTIR
I am immortal, I have inside me blood of kings
I have no rival, no man can be my equal
Take me to the future of you all
Kalinda backflips, landing in the middle of the ring, facing the camera as fountains of sparks ignite in the heads of her undead minions' instruments and she blows her own massive gout of draconic flame. The shot drops into an immediate ad break to reset the stage, the sound of the roaring crowd going eerily silent.
_____________________________________________
CUT TO:
INT. THE SILVER STATE BALLROOM -- RINGSIDE
The crowd is still going bonkers as we return from the brief break and then plunge immediately into silence as t
he lights of the Silver State Ball Room blink out, darkness enveloping the CORONATION crowd as their revelry falls to hushed murmurs. A single spotlight ignites to the sound of a gunshot, illuminating a newly risen platform next to the entryway occupied by a guitarist and singer. Noise pop fans roar approval at the sight of Alexis Krause and Derek E. Miller of Sleigh Bells, as they plunge into 'Leader of the Pack', the entrance theme of one Regan Voorhees. The fans cheer and jeer accordingly.
Do you remember when
You used to sleep at night
And when somebody dies
You see them lifting
But you know, you know
It's not over

The beat rolls on as a second platform on the opposite side of the entrance starts to lower. Taking up almost the entirety of the platform is a white dragon skull the size of a Volkswagen. Regan Voorhees stands at the top of the skull, steadying herself on the deceased creature's horns. An improvised breeze makes her translucent white raincoat whip back dramatically, the blood red accents of her white ring gear matching her hair and makeup perfectly. Her color-coordinated croquet mallet is buried between the beast's eye sockets. The song continues as the platform drops to meet the entryway, the crowd still awestruck (and in many cases baffled) by the spectacle before them.
Do you remember when
You had no need for lies
And now your mother cries
And nothing matters much
You know, you know
It's not over

As Sleigh Bells reaches the first chorus, a quartet of soldiers in red musketeer uniforms march out, the traditional white crosses on their tabards replaced with stylized pig faces in stark black to indicate their sworn loyalty to the Duchess of Pork. They also wear pig masks, further hiding their faces beneath their cavalier hats. When the dragon skull is level to the stage, Regan gives her croquet mallet a pull and it dislodges. She holds the red wooden object aloft, as if she had just dislodged Excalibur. The crowd reacts again as they are wont to do, and a pair of musketeers help Regan to dismount from the skull. She takes her place in the center of them and walks to the ring, ignoring the crowd, focusing only on her pre-match pageantry. The chorus continues.
Don't you know
He's never coming back again
Don't you know
He's never coming back again

Once at ringside, Regan outstretches her arms, prompting two of the musketeers to raise her to the ring apron, while the remaining two hold the ropes open so that she may enter the ring. On the inside, she raises the hammer of the mallet to her forehead, closing her eyes in a silent prayer. A second later her eyes snap open and she gives the mallet a twirl, sliding it into position over one shoulder, as she gives the crowd a wicked smirk. The music cuts, the lights come back, and the pig musketeers disperse; leaving Regan Voorhees to await the opening bell.
CUT TO:
INT. THE SILVER STATE BALLROOM -- THE RING

REGAN VOORHEES vs KALINDA KRIEGSDOTTIR
Regan dodges a grapple in the first seconds and then catches Kalinda with a slippery slope of a backslide!
ONE!
TWO!
Kalinda pokes the eyes of Regan, gets herself a break but it doesn't last long as "The Duchess of Pork" immediately retaliates by catching the arm and going for a speedy armbar – REVERSAL OUT OF NOWHERE! The crowd can barely keep up with the fast pace of the match already and now somehow, someway, Kalinda's manager is in the ring and she does a quick hop off the top of Sinistrous the Evil Milk Crate, getting enough height for a springboard knee to the snout! Regan stumbles back, clutching at her face and Kalinda hooks the head as she touches down for a speedy DDT! Regan squeals in outrage, rolling around and still clutching at her face, screaming for Steve to get out there and press the reset button on this match! Gutbuster by Kalinda – NOPE! Regan tries a sunset flip but Kalinda blocks her as well, making the crowd erupt in a mixture of boos and cheers. Kriegsdottir nails a hard back elbow that sends Regan down, clutching her face again as Kalinda unloads a mudhole stomping that turns into a DRAGON SCREW LEGWHIP ON THE DRAGONESS! The crowd goes crazy as Regan takes back the momentum, nailing Kalinda in the back of the head with a jumping back elbow right into a buffalo sleeper! Kalinda has the ring presence to hook the rope and the match continues – OH NO! THE PAIR ROLL BACK AND REGAN HAS THE CRUELTY-FREE CHICKEN WING LOCKED IN TIGHT! NO! OH MY GOD! INSANITY CONTINUES AS KALINDA STARTS WRITHING BEFORE DISLOCATING HER OWN SHOULDER TO SLIP OUT OF THE HOLD! She slides out of the ring to confer with her manager on the apron, popping her shoulder back into place which makes Regan turn away in disgust.
The pop of the crowd alerts her to something nefarious afoot and she turns right into what looks like was intended to be a rolling senton but ends up as an awkward armbar with joint manipulation – REGAN'S THUMB AND INDEX FINGER ARE DISLOCATED AND SHE SQUEALS IN OUTAGE! HOW WILL SHE USE SOCIAL MEDIA NOW?! OH MY GOD! RED MIST TO THE FACE OF KALINDA AND REGAN IS SCRAMBLING BACK TO HER FEET! She poses and gloats, the crowd booing loudly before a quick roll up from her opponent halts that moment of hubris!
ONE!
TWO—NO!
Kalinda nails an elbow to the face the moment Regan gets the shoulder up and earns a slap in response. Kalinda throws a chop and the crowd lets out a thunderous WOOOO! Regan responds in kind and gets a WHOAAAA! WOOOO! WHOAAA! WOOOO! WHOAAA! Kalinda staggers back from the impact, actually looking like she's feeling it and just as Regan charges in, The Dragoness dodges, knees Regan in the back and goes for a sleeper – DENIED! Regan breaks it up with a jawbreaker and scrambles away from Kalinda's reach. She springs off the bottom rope and nails Kalinda with a springboard forearm that turns into a Tigress Suplex! RED CAMELLIA (octopus hold) IN THE MIDDLE OF THE RING AND KALINDA HAS NOWHERE TO GO! She can't break out after the damage done to her own shoulder earlier, leaving her no choice but to tap out!
WINNER (VIA SUBMISSION): REGAN VOORHEES


CUT TO:
EXT. SOMEWHERE IN RENO

We open up to a view that looks as though it may be from the top of the Eldorado Casino, the camera angled downwards at the busy street in front of the building with people hustling and bustling to get into it to enjoy the show held within. The moon's shining down from the cloudless night sky, casting a pale light on the mass of humanity that moves around and about the street. From behind the camera we hear a deep voice, almost a growl. And anyone who has paid any attention to the goings of UPRISING immediately recognizes it as the one belonging to the one and only SUPREME MACHINE
SUPREME MACHINE

They all look so small don't they? Going about their daily lives, looking forward to a Saturday every other week for something to help them forget the trials and tribulations of their mundane lives... like ants scurrying about in a hive damaged by the unrelenting hand of humanity.
The camera turns and we see SuMa standing next to a ledge, his normally bare upper body hidden inside a black hoodie that also covers his face. Only feature visible from under the cloth is the glint in his coal-black eyes as he stares down.
SUPREME MACHINE
To us... all are like that. Nothing but ants to be crushed in our wake. We have been called many a thing in our life. Freak. Monster. Slasher film reject. Boogeyman. Words and phrases meant to mock us and discredit us. But they make no difference. We are beyond the reach of mere men and women to wound. They take solace in their perceived victories when they try to knock us down with their verbosity only to suffer tenfold when they meet us face to face.
The camera suddenly turns to face the crowd and zooms into a particular person, wading through the mass of humanity. It is JENNIFER RIVERS, the manager/handler of SuMa. You can see from her face that she is worried, scanning the surroundings with a frantic look on her face.
SUPREME MACHINE
She thinks she understands. She thinks she can control us. Restrain us. Guide us. She doesn't realize she can do that only because we allow it. She has walked our path as well. She thinks that gives her an insight to us. That... and a bond of blood between us. She tries hard to make something out of us that we have never been and will never be. We allow it as it serves our purpose.
As if on cue, Jenny looks up and sees SuMa perched on the ledge, a wave of relief washing over her features. She begins to rapidly make her way into the building as SuMa continues.
SUPREME MACHINE
Neither she nor anyone else can reign us in. What happened with Legion will never be repeated. Never before have we met someone so like us... and never before have we been so thoroughly matched. Respect is something we have for no-one or no-thing. But that thing... Legion... earned it. Maybe one day our paths meet again and we take our vengeance. For now, it is of no consequence. The rest of the men and women who call UPRISING their home will feel our might. A storm is coming. A storm that will wipe out all who foolishly stand in its path.
We hear a door opening and closing on the background and as the camera turns around, we see Jenny approaching SuMa, her footsteps quick and ringing out loud in the silence. We can't hear what she is saying but whatever it is, clearly doesn't please SuMa. The giant beast takes quick steps to stand looming over her lithe frame and the woman backs down. SuMa points back towards the door and hesitantly she obliges. After that, SuMa turns back to the camera.
SUPREME MACHINE
Ironman. Tonight you will be the first to fall. We are the Oncoming Storm. Yield or you will be swept aside. There is no gold or glory here for you. Only… PAIN.
And with that, the feed cuts elsewhere.
CUT TO:
INT. ELDORADO CASINO -- BACKSTAGE
"BAW! EVERYONE'S FAVOURITE IDOL! BAW!"
The feed now shows Jenson Idol standing in front of a camera. He has on his ring gear but also a leather jacket and a pair of shades.
JENSON IDOL

Oi! It's good be back here in UPRISING! The first two shows that I've been a part of? I've made statements. But yet, the old timers here still doubt me.
PERRY THE PARROT

BAW! GRUMPY OLD MEN! BAW!
Jenson laughs and nods as he hands Perry a treat.
JENSON IDOL

Aye, you've got that right, mate. But you know what? Amber Ryan? She's a breath of fresh air. Yeah, it might sound crazy that I say that with her history and what she did to Chris Mosh the other week but I don't give a bloody damn. I want a fight and I want someone who takes me as seriously as I take them. And you know what? I've got that in Amber Ryan!
PERRY THE PARROT

BAW! SHE'S CUTE! BAW!
Jenson rolls his eyes.
JENSON IDOL

Bloody hell, Perry! Have you seen her dog? Don't get us in trouble now!
Jenson laughs lightly.
JENSON IDOL

Anywho, it's an odd week for me. I don't have much shite to talk because Amber is a solid lass. I really don't have any complaints but I am thankful for this match, as I'm sure she is as well. I mean, this booking makes sense. We both joined up here around the same time, we're both accomplished vets looking for something to prove here in UPRISING.
Idol pauses and nods confidently.
JENSON IDOL

So let's go out there and raise hell and show why we both belong here and why we're both major threats here. Because win or lose? My talents will be recognized tonight. You can bloody count on it. See you out there, Amber!
With that said, Idol and Perry exit the scene and it cuts away to another ad break.
_____________________________________________
CUT TO:
INT. ELDORADO CASINO -- BACKSTAGE

The big screen in the arena starts to show a video that was captured earlier, where MICHAEL MAROU has taken a page out of Don Tirri's book. He has a merchandise table set up before the event with plenty of fans around him. The difference between this and what Tirri usually does, is that none of the merchandise that's for sale is licensed by UPRISING. Instead, it's an assortment of giraffe memorabilia. Giraffe stuffed animals, t-Shirts and hats with giraffes on them, and stickers that say "My Safe Word Is" with a giraffe emoji.
MICHAEL MAROU
Everybody step on up! Today is a very special day! We head into the first ever UPRISING Super Show! Tonight I step into the ring with a monster straight out of a horror film! I've been told that tonight I will face evilness and brutality like I've never witnessed before! I've been told I am outmatched and I'll be facing pure destruction tonight!
The crowd listens in, really not all that into it as most of them don't like Marou. But they do enjoy the novelty of it all, which can be seen by a few of the fans holding their newly bought giraffe items. Marou himself is decked out in a giraffe shirt and hat as he carries on.
MICHAEL MAROU
So before all that happens, I'm here just to remind everyone what my safe word is! I'd hate to be pushed past my limits, and that big freak not remember the safe word!
The fans can't help but let out a chuckle amongst themselves as Marou grins sheepishly.
MICHAEL MAROU
Because I have big plans in this company. Tonight, we crown the first ever Uprising Champion, and I'd very much like an opportunity to challenge for that title. Which won't be possible if I'm stuck eating through a tube!
The crowd doesn't give anything in the way of laughter to this. Instead, the whole room gets pretty quiet as JENNIFER RIVERS walks up to the table.
MICHAEL MAROU
Hey, Jenny! You want to buy a stuffed Giraffe for your lil bro to cuddle at night?
Jennifer obviously looks displeased with the charade as she stares Michael down.
JENNIFER RIVERS
Mr. Marou, it is refreshing to see you still possess your sense of humour despite being only a short while away from receiving a beating at his hands. I might as well get one of those as memorabilia; I believe they might rise up in value after tonight since you won't be making any more. Signed, of course.
The woman shows no sign of amusement, being all business as always as she scans the man selling his merchandise.
JENNIFER RIVERS
It is a shame you were left with him as your opponent. I saw big things in your future, Mr. Marou.
Michael continues to grin at her, despite her humorless visage. Without a word, he pulls a Sharpie out of his pocket and picks up a stuffed giraffe. He signs the oversized tag on the giraffe "to my biggest fan, Jenny Rivers!" and adds his signature at the end.

MICHAEL MAROU
There ya go Jenny! Treasure that. But don't worry about my future. Big things will come. It's gonna take more than what he's capable of to keep me down, toots.
Taking the offered giraffe, Jenny raises an eyebrow and cracks a slightly sarcastic smile.
JENNIFER RIVERS
Mr. Marou, what you and the rest of the roster saw from him against Legion was barely a fraction of his true ability. Legion turned out to be completely different to what he expected. I guarantee he won't repeat his mistake.
She leans in closer.
JENNIFER RIVERS
He has been pacing like a caged animal for days. I am not certain even I can hold him back this time. I sincerely hope your moniker rings true. You will need to be a man of iron to survive him. But if you do… You will go far. I know potential when I see it. Do not squander it.
The grin on Michael's face turns to a much more serious expression. He leans in, matching Jennifer's tone and body language.
MICHAEL MAROU
What makes you so sure that I'm not what he expects? What makes you think I'm different from Legion? You walk around here, seemingly expecting him to be feared by us all. But I'm not afraid. I've literally gone to war. I've been through hell and back. Yeah, he's huge. He's mean. He's powerful. He's a bonafide monster. But he doesn't scare me.
One can only wonder if Michael is serious. Of course he would never admit fear on camera, but Supreme Machine could definitely fuck up his world if he isn't careful.
MICHAEL MAROU
I appreciate your kind words. But I assure you, I'm more than capable of holding my own.
Nodding to the Ironman, Jenny reaches forward and pats him on the cheek in a gesture that is part endearing and part condescending.
JENNIFER RIVERS
That remains to be seen, Mr. Marou. But I am looking forward to witnessing it firsthand. Good luck out there. You will need it.
With that, she turns around and begins to make her way towards the back of the arena, carrying the stuffed giraffe like a trophy in her arms. Michael stares off after her, glaring as she walks away. It's not often he steps into a match so unsure of himself, but tonight he has an uphill battle. All he can think is that he'd better win tonight, and put that condescending bitch in her place.
CUT TO:
INT. THE SILVER STATE BALLROOM -- THE RING

A NEW CHALLENGER HAS ARRIVED!
MICHAEL MAROU vs SUPREME MACHINE
Marou goes straight for the monster, firing pummeling blows into him and talking smack as he does so. The Machine goes to grab him by the throat, but Michael stamps on his foot, ducking around behind the big man and jumping onto his back, trying to slow him down quickly with a sleeper hold. Jennifer watches on silently from ringside as the Machine writhes, trying to force Marou off of him, but the LA native continues to keep his grip. Finally, Supreme Machine manages to throw him off, causing Marou to fly halfway across the ring. The monster bears down, as Marou backs into one of the corners, and as the Machine swings he ducks away, grabbing SuMa's head and smashing it into the turnbuckle. However, this seems to have no effect on the monster, who turns and swings a massive arm that crashes through Marou's face, sending him careening across the ring once more. Smartly, Marou tries to roll to the outside, but the monster grabs him by the ankle, yanking him up with one hand and hanging him upside down by his ankle, before using his free hand to fire punches into his ribs like a slab of meat hanging in a butcher's freezer, before slamming him down hard to the canvas.
Once more Marou scrambles towards the ropes, grabbing them as SuMa grabs him again, yelling at the official that he's on the ropes and to do his damn job. The official tells the monster to let go, and he just... stares at him, causing the referee to back off a little before starting a count. He does let go, at three, turning to the frightened official and staring a hole through him. This gives Marou an opening as he dives in behind his opponent, smashing into the back of his knee with a chop block. SuMa grunts, and Marou does it twice more, which causes the Supreme Machine to drop down to one knee. Yelling at him that he's a B-movie reject, Marou hits a big spinning kick right into the monster's skull, and for the first time in the match, the Supreme Machine is down! Sensing his opening, Marou drops down, locking himself around the monster's head and trying to choke him out with the Gogoplata! The monster writhes and flails, but Marou has the hold locked in tight, and it seems as though the monster is about to fade!
Suddenly, the Supreme Machine lets out a huge blood-curdling roar, clasping his arms around Marou and he starts to get to his damn feet with Marou still locking him in a choke! He pulls him up before charging and smashing Marou straight into the turnbuckle, causing a break! The Ironman, realizing he may be in trouble, starts scuttling for the ropes, trying to get out of the ring. Unfortunately for him, this time the monster stamps hard on his ankle before he can get there. Marou tries to squirm free, but the Supreme Machine grabs him by the arms, wrenching back so he's 45 degrees off the floor, before curb stomping the back of his head into oblivion. And with Deus Ex Machinae delivered, the Machine covers.
ONE!
TWO!
THREE!
WINNER (VIA PINFALL): SUPREME MACHINE
Jenny slides in the ring as it looks for a moment as if the monster may continue the assault. She takes his arm, whispering something to him, and he nods, before walking away silently.
CUT TO:
INT. ELDORADO CASINO -- BACKSTAGE


We cut backstage to reveal that big black bingo roller drum, zooming in on the inside contents to show there are two AQUA blue, one ORANGE and one CHARTREUSE inside among all the pitch-black balls. Intern Steve is standing by with a clipboard while one of the nameless drones of the production team gives the thing a spin before SKITTLES steps up to the head of the line, trying her luck. She opens her hand to reveal a black ball, looking dejected as she walks off, shaking her head. Next in line is none other than SCOTT DUNN and the rest of the lower card rabble gives him a wide berth as he dips his hand in. The ORANGE ball sits on his palm and he throws his head back, laughing sarcastically as he realizes that of all the ironies in the universe, he's just drawn Jenson Idol as his partner.
SCOTT DUNN

Meaty Boy Season indeed.
He's still chuckling to himself as he walks off just as AMBER RYAN appears from the other direction, nodding to Steve as she steps up to the table. She watches the drum roll for a few seconds, almost as if she's lost in thought before she finally reaches out. One of the AQUA balls is in her hand as she pulls it back and she looks at it for a moment before handing it to Steve.
INTERN STEVE

Congratulations! The other blue one is still in there. I wonder who you'll end up with?
AMBER RYAN

As long as it's not-
INTERN STEVE

Oh, don't worry. Chris Mosh already drew a black ball. He's definitely not in this. Neither are JC or Mad Max or-
The Distorted Angel lifts her hand up to silence him when it seems like Steve's going to run down the entire list of people on the roster who aren't in the tournament, managing a tight smile.
AMBER RYAN

Thanks.
She turns away, letting the rest of the stragglers close in behind her and the view cuts out to another SplatTV ad break.
_____________________________________________
CUT TO:
INT. ELDORADO CASINO -- BACKSTAGE

We open up from the backstage area and it is there where we are able to get a better look at the stable known as the Gem Stones. Diamond stands front and center as she looks deeply into the heart of the camera and begins to speak.
DIAMOND STEELE
Bloody hell… My name is Diamond. I'm sure by now you know who we are, since we just made short work of the Smiles Protection Agency in tonight's opening contest. I can assure you we're not done! As far as my band goes you can be rest assured that this upcoming tag team tournament will be utterly and completely…
RUBY STEELE
OUTRAGEOUS!!!
Diamond smiles as she looks over at her cousin.

DIAMOND STEELE
We won't be stopped. Nothing and nobody-
SAPPHIRE
Why are you the only one that gets to speak? Last time I checked we are a group which means we all have equal say and I was the one who took out Jenny or whatever her name was...
Sapphire trails off as Diamond glares at her.
DIAMOND STEELE
And it's MY GROUP! I am not only the oldest but I had a name in wrestling before any of you were even involved in the picture. While the group might be called the Gem Stones let's not forget that outside of wrestling we are called DIAMOND & the Gem Stones. What that means is I am the front woman for the band. I am the one that people know, I am the one they paid to see. So I am sorry if you can't get that through your head and…
SAPPHIRE
Keep talking to me like that and I have no problem in dealing with you. I don't care if you are my sister's cousin. You aren't anything to me and…
Emerald looks at both women as she tries her best to get in the middle of them.
EMERALD
Oh my God, there's no reason for us to fight! We have to be a united front if we're going to-
SAPPHIRE
I don't know if I can be united with somebody who is such an arrogant and self-centered cunt!
Diamond smiles as she looks at Sapphire.
DIAMOND STEELE
And if you don't like the rules of MY BAND you know the door is right over t…
Ruby seems to be getting upset as she looks at both women.
RUBY STEELE
That's enough out of the both of you! I don't even know what to say right now. The two of you were a perfect team out there and now you're just...
Sapphire smiles as she looks at her sister and nods her head in agreement.
SAPPHIRE
Ruby makes a good point, even if you're not willing to admit that I was the one who sealed the deal on our win out there tonight.
Sapphire walks away as Diamond stands there crossing her arms.

DIAMOND STEELE
Manchester piece of shit… I will show HER why this is MY BAND!
With that Diamond storms away, leaving the other two Gems to look at one another before we return to ringside for the next match.
CUT TO:
INT. THE SILVER STATE BALLROOM -- THE RING

AMBER RYAN vs JENSON IDOL
Ryan and Idol charge forth and meet in the middle of the ring as soon as the bell sounds! They each clench the other by the back of their head with their left hand, and begin driving right hands into the other's face! The fans are going crazy as they're treated to a straight up fight to start things off! Idol frees himself from the clench, snatching Ryan and nailing the LIVERPOOL KNEE! Amber falters but doesn't fall! Idol snatches her in a ¾ facelock and charges the corner, going for Break Bread but as soon as he propels from the top turnbuckle, Amber frees herself from his grip and shoves Idol away! He sails over the top rope and crashes to the floor outside, landing with a sickening thud! Amber holds the side of her head, sneering out at Idol as he thrashes on the floor, dragging himself up quickly to try and fight through the pain! But now Ryan snatches onto the top rope and vaults over! She crashes into Idol with a plancha that drives them both into and over the guard rail! The socially-distanced front row crowd scatters.
Ryan gets up first and follows up the graceful move by yanking Idol up and smashing his face into the unforgiving steel. Once! Twice! On the third, Idol blocks and reverses, bashing Amber's face into the guardrail now, before scooping her up and over! He then vaults over the guard rail and nails Amber in the back of the head with a curb stomp!! Amber clutches the back of her head, kicking the ground as she yells in pain! Idol takes a moment to roll under the bottom rope and break up the count. He takes a moment to gloat, smirking at the crowd before yanking Amber up by her red hair and bashing her face into the stairs, then the ring post! He then slides her into the ring, rolling after and going to pull her up but Amber knocks the wind out of him with a sudden uppercut before turning him around, snatching him and nailing a sudden snap dragon suplex! Turnabout's fair play and now it's Jenson rolling around in pain, holding his head. Amber lays staring up at the lights. She lifts a hand, checking her forehead and finding that yes, indeed, she is busted open!
Amber begins to unwrap the tape on her left hand, exposing her bare knuckles before forcing herself up just as Idol does the same. They lock eyes and suddenly move toward one another, both looking exhausted and battered. They bump foreheads in the middle of the ring and slowly get to their feet, still pressing their foreheads against each other and spitting venomous obscenities. Suddenly, they snatch each other by the back of the head and begin trading blows, resolving to end this match the same way it began! Idol goes for a thunderous right but Amber ducks and slips behind him! Idol turns around, getting kicked in the gut and snatched! Amber Ryan NAILS ORIGINAL SIN (double underhook kick-out DDT)! She weakly rolls Idol onto his back, hooking both legs.
ONE!
TWO!
THREE!
WINNER (VIA PINFALL): AMBER RYAN



CUT TO:
EXT. SOMEWHERE IN RENO


The solitary figure of KENDRICK KROSS is spotted walking down the main thoroughfare in Reno, passing under the famous arch as he makes his way towards the historic Eldorado Casino. He stops and looks up at the sign, a smirk crossing his face as the advertisement for CORONATION flashes across and it's clear that he is looking forward to exacting a measure of revenge on Sativa for her interference in his title match. It's early afternoon but the casino is still busy as he slips inside, walking across the noisy and smoke-filled floor and the cameras are happy to follow as he begins speaking.

KENDRICK KROSS
This isn't some random booking.

His tone makes it clear just what frame of mind he's in: A VERY BAD ONE.

KENDRICK KROSS
No. See, this match is because of what Sativa did.

His expression is dark as he pauses under the sign for the SILVER STATE BALLROOM.

KENDRICK KROSS
This is to teach someone a lesson, that actions have consequences. I was on the way to becoming CGW champion, to being the first in UPRISING to claim championship gold and what does she do? She sticks her nose in where it doesn't belong. She decides she's going to run out, uninvited mind you, and cost me that title.

His hands are fisted at his sides, making it clear what he wants to do, even now, just thinking about that moment when everything was ruined.

KENDRICK KROSS
I know, I need to focus on the match. I know that being bitter about the whole thing isn't doing me any good while that bitch is off gloating about how she just cashed in for some title shot and ruined someone else's night. That's what she does. That's who Sativa Nevaeh is. She ruins things.

He turns and starts off towards the locker room, stopping again to turn back and his face is red with the anger he's trying to hold back.

KENDRICK KROSS
I mean, what reason did she have to run out and interfere? None at all. No damn reason other than to what, try and make a statement at my expense? That's not why I'm here! I didn't come to UPRISING, to Reno, to be pushed around. She isn't going to make a statement or a point out of me! The only thing she's going to do tonight is try to survive the beating that's coming. There's nothing she can do, nothing in all those stupid championships she's won elsewhere that's going to stop me from tearing her apart, limb by limb.

A smirk crosses his face as the thought of that violence begin to run through his head.

KENDRICK KROSS
If security and that pink weirdo hadn't broken up the party last REVOLUTION...

He shakes his head.

KENDRICK KROSS
Well, let's just say it would have been a great show and a hell of a night for yours truly. And what better spectacle for a CORONATION than to have limbs and blood scattered all across the arena? Proving a point? No, Sativa. We're way past that now. We all know that you learning a lesson isn't about to happen but I'll tell you what is: Sativa laid out on her back after a Tramp Stamp. Maybe she'll realize she fucked up. You don't crash my party and walk away unscathed.

His smile is cold and frightening.

KENDRICK KROSS
We'll send her to the hospital. Maybe she can be roomies with Morgan Payne. Put the whole Kingdom on the shelf where they belong... get her the hell out of MY ring and MY WAY.

Kendrick chuckles to himself as he walks off, the feed cutting to an advertisement for the replay of the last match for the SPLAT MULTIUNIVERSAL CHAMPIONSHIP, featuring Morgan Payne and Lash Donohue! Available now, commercial free, for all PREMIUM SUBSCRIBERS!


_____________________________________________


CUT TO:
INT. ELDORADO CASINO -- BACKSTAGE

The camera cuts to MATT KNOX stepping out of his dressing room, fully prepped and ready to go for his upcoming match. A smirk plays on his face, having just witnessed Amber Ryan's brutal match with Jenson Idol along with the rest of Reno. He walks down the hall with a stiff gait, doing his best to mask a limp that continues to plague him. Before long, he comes across Steve's bang-up paper sign, custom-made and proudly displaying "AMBER RYAN AND THE COWBOY (sorry I forgot your name, - Steve)". Knox pushes the door open, mouth half opened to do what he does best and talk but freezes as his eyes fall upon AMBER RYAN seated on the floor, her pant legs rolled up to the knees and shoes strewn across the floor.
There's no longer violence here, no hurricane raging around the 5'8" redhead, no vitriolic distaste and blatant apathy of display. Just a girl, holding an ice pack against her face, staring a hole through the floor. Tape hangs loose from around her ankle, previously laced tightly to the point the bruises and swelling bear the marks of pressure- the chaos and malevolence left out in the ring, the Distorted Angel stripped back of her layers of facades. One hand traces through the tangled tresses, pulling back from her face- while the other shifts the ice pack from one tender spot to the next. Relief momentary as the aches radiated.
Matthew holds his breath, shutting the door slowly and palming the camera lens, shoving it away to give Amber her privacy. Briefly, it catches the stone cold look of a man who has just realized he fucked up somehow.
??
Do you understand now?
The voice of MAC BANE comes from behind him. Matthew tenses up at the sound of Mac's voice, and turns around. The camera points at their feet initially, but slyly moves up to shoot up at the two men. Knox remains silent, staring Mac in the eyes a moment.
MATT KNOX
Did she get hurt out there? Fuckin' please tell me yes. Tell me I didn't fuck up here, Mac.
Knox's voice is devoid of the usual swagger and arrogance, stripped down to little more than honest concern as he awaits Mac's answer. Bane gives him a gentle smile.
MAC BANE
She's been wrestling hurt for a couple of years. This isn't your fault, you don't completely understand her yet. The approach you took was bad. That part, yes, you fucked up. It's not irreparable though.
Matt keeps his gaze downward, shifting from one foot to another. He looks like a kid who got caught red-handed and knows that nothing good is coming his way. He clears his throat, nodding and thumbing over his shoulder.
MATT KNOX
I...I gotta go get ready to fight Scott. I'll uh...yeah.
And with that, he turns and heads up the hallway as quickly as his stiff, limping ass can take him.
MAC BANE
There may be hope for you yet, Matt.
Mac whispers as the younger fighter disappears from view. He turns to the dressing room door, laughing at the sign and the fact that Steve forgot his name. He opens the door and sees what Matt saw moments before but from a different perspective. Smiling at his future bride...
MAC BANE
Tore the house down again, Red; I love watching you fight.
He continues into the dressing room and takes a seat next to her on the floor, giving her a kiss. She gives him a warm, knowing smile- the tender moment doing wonders for the rigors that follow a hard-fought match.

AMBER RYAN
You flatter me far too much. By all means don't stop- and besides I figured I'd let you wreck through the rest of the building…
Pulling the ice pack away, the bruises have already started to bloom, however her expression remains almost serene.
AMBER RYAN
...we have a reputation to live up to after all.
MAC BANE
That
we
do.
Bane pulls something from his pocket, setting it on his knee. It's the mate to the AQUA ball Amber drew earlier in the evening. The two lock eyes for a moment as a smile crosses the face of the Distorted Angel, mirrored on the face of her future husband.
CUT TO:
INT. THE SILVER STATE BALLROOM -- THE RING

CHRIS MOSH vs MAC BANE
The match begins with Mosh and Mac meeting dead center in the ring. Mosh stares deadpan, emotionless behind the acrylic mask he's got on to protect his broken nose. Mac just glowers at the younger man a moment before hauling off and beginning to rain down haymakers on Mosh's face despite the barrier absorbing most of the blows. There's a crack across the middle of the clear plastic when Mosh backs up but he doesn't seem to register the blows otherwise. Suddenly as Mac hauls off for another hurting bomb, Mosh pops him in the Adam's apple with a knife-edge chop! The Cowboy backs off, holding his throat as Mosh dives down and brings him to a knee with a chop block. This is a far more determined Mosh than we've seen in previous weeks and he's going to work, raining down his own right hands on Mac's head before wrapping an arm around it and dropping him with a shortfall DDT! Mosh then mounts Mac's back and begins driving fists into the back of Mac's head until Mac manages to fire his head back and catch Mosh on the underside of the chin where the mask doesn't cover! Mosh falls back and the Cowboy gets to his feet, nailing Mosh with a kick to the side of the head before he can get up!
Mac lifts Mosh up, and now having none of his shit lifts him up for a powerbomb and runs to a corner, launching him into with a vicious buckle bomb! Mosh's head whips back and forth on the impact! He instantly favors the back of his neck and slides to a seated position in the corner as Mac backs up and charges in with a knee, smashing Mosh in the face and the mask finally cracks the rest of the way, hanging halfway off Mosh's face. It's discarded but that moment serves to be a mistake as Bane starts stomping a mudhole into the little shit who dared continually besmirching his fiancée's name on social media! Mac lifts Mosh out of the corner when satisfied, and whips him as hard as he can to the opposite corner! Mosh bounces off the ringpost and falls to the ground, curling in on himself as he begins to truly feel the punishment Mac is dishing out! Mac goes to get him up – MOSH IS PLAYING POSSUM! He nails Mac with a low blow and when he doesn't go down, Mosh roughly kicks him in the side of the knee. Mac staggers back in agony, doubled over and Mosh runs up behind him, nailing him with a German suplex! He goes for the pin!
ONE!
TWO—NO!
Mac Bane kicks out and Mosh just stares a hole right though him, shaking his head. He pulls Mac up and launches him with a belly to belly suplex that sends the big man careening into the corner. He follows it up quickly, trying to yank Mac to his feet only to be met with a picture perfect stiff uppercut that sends Mosh reeling back into the ropes. Mac gets up slowly, favoring his own head. When Mosh comes charging back in, he takes him down with a hard clothesline that spins him inside out! He yanks Mosh up and goes for a discus clothes but Mosh ducks! He rolls Mac up and he GRABS THE TIGHTS!
ONE!
TWO!
THREE!
WINNER (VIA PINFALL): CHRIS MOSH



CUT TO:
INT. ELDORADO CASINO -- BACKSTAGE

We open up a scene in progress of loud shouting emerging from the backstage area. As the camera catches up to the source of the ruckus, we see BIG SAM BUSCH, the middle brother of the triplets colloquially known as Brothers Busch roaming around the area with LOVERBOY BUSCH trying to catch up to and stop him.

BIG SAM BUSCH
RICKY YOU GODDAMN RAT I KNOW YOU ARE HERE SOMEWHERE! SHOW YOUR FACE AND LET'S GET THIS DEALT WITH RIGHT HERE RIGHT NOW!

Big Sam can be seen slipping into the hallway where the locker rooms for the talent are situated and after opening and closing a few doors with a loud, increasingly agitated bang, he pulls open one more door and looks in with an awkward smile spreading to his lips

BIG SAM BUSCH
OH, hey girls. Have ya seen that GODDAMN RAT?!

The camera catches up to Big Sam, as does Loverboy, and we see the three girls of THE CRUSH in the room that Big Sam opened the door to. HEIDI AUSTIN, CARAMEL CANE and LOLLIPOP are seated in a semi-circle, clearly surprised at Big Sam's sudden entry.

LOLLIPOP
Wow, this place has rats? You told me we were wrestling for a reputable company, Carrie!

CARAMEL CANE
I think he means Ricky...

LOLLIPOP
Oh. Well he's not in here. If he was, he'd already be dead.

Heidi interjects.

HEIDI AUSTIN
Settle down, Sam. You don't need to go chasing him down. He'll be heading to that ring tonight; let Tiny take care of business. We'll be there to make sure he doesn't slither on out of a visit from the Karmadillo.

Sam stands there somewhat dumbfounded, long enough for Loverboy to catch up. He flashes a charming, or what he thinks is a charming, smile at the three girls.

LOVERBOY BUSCH
C'mon, Samuel, I tried to tell you that! Listen to the pretty girls if you won't listen to your brother. Tiny has this covered, or do ya doubt ya own flesh an blood?

This causes Sam to groan and start grumbling under his breath, something about rattraps and protecting and whatnot. Loverboy grabs a tuft of Sam's beard and stares him down harder than you'd ever imagine he could.

LOVERBOY BUSCH
Ya hear me, Samuel?

Finally Big Sam rolls his eyes and nods.

BIG SAM BUSCH
FINE! I'll calm down, goddammit.

He turns to the girls.

BIG SAM BUSCH
Ya girls better make sure he ain't gettin' nowhere. I know we's got a truce, but should that GODDAMN RAT get away tonight without getting his just dues, there ain't no force in this world strong enough to keep me from takin' it out on you three. Ya got me?

You can see Big Sam starting to pick up steam again, something that causes Loverboy to roll his eyes, but before he can interject, it's the girls who speak up

LOLLIPOP
...you threatening us?

Heidi interjects quickly.

HEIDI AUSTIN
Lolly, down. We'll make sure of it. Sleazeball needs to get what's coming to him. Of course, if he tries to get away, feel free to get a couple punches in before throwing him back. Just so he doesn't get any funny ideas.

Sam is staring down Lollipop. Clearly the two didn't get their steam beaten out at REVOLUTION. On the Busch-side, it's again Loverboy who steps in, yanking his younger brother by the hair and physically getting in between.

LOVERBOY BUSCH
Girls, don't worry. I'll make sure the big lug doesn't get up in your business. We got a shared goal here, aight? I knows ya got your own issue with Rickydicky, but tonight it's all about Tiny. Right? I mean, that's what ol' Loverboy tried to tell Samuel here as well, but he's a tad protective, ya dig?

Heidi nods.

HEIDI AUSTIN
Tiny needs to show the little shitbag you don't mess with people's friends. He'll whack Rhodes good. Once that's settled, we can go back to normality around here... or what passes for normality.

CARAMEL CANE
Yeah, the tag tournament's coming up, no doubt we'll be at odds there, but then's then. Tonight it's a common goal. Operation: Choke A Santa Clara Cunt. With Tiny & Socksworth as your head operatives.

Big Sam and Loverboy look at each other, with the oldest brother staring the middle one down for a split second before they nod.

LOVERBOY BUSCH
We are in agreement, girls! An' take it from ol' Loverboy, it'll be an honor!

He offers a handshake to Heidi, and as she takes his hand, quickly turns it into a smooth kiss on the hand, while Sam who offered a hand to Lollipop is currently in the middle of a shake-off, with both trying to squeeze with all their might, leaving Caramel looking bewildered.




_____________________________________________
CUT TO:
EXT. SOMEWHERE IN RENO

Several weeks have passed since Tyson Deuce was demolished by Supreme Machine but the events have been playing in his mind like a never-ending carousel, always stuck on the same loop. Thankfully, he had come away with only minor injuries, but the mental damage suffered from being destroyed on his debut? They were still around. The fact that he wasn't booked for CORONATION is also bothering him more than he's willing to let on. TYSON DEUCE lays on a bed with COLBIE DEVITT standing over him.
COLBIE DEVITT

How are you feeling, sweetie?
Tyson hesitates before glancing at his girlfriend.
TYSON DEUCE

Better...I guess? At least I'm mobile again.
Colbie chuckles.
COLBIE DEVITT

Thank goodness for that.
She sighs, gently kissing Tyson on the forehead before standing up.
COLBIE DEVITT

I'm going to be checking with officials at Uprising. Hopefully, I hope can convince them to not let such an unwarranted assault go unchecked again. If nothing else, I'm going to make sure that you're back in action on the next episode.
She walks towards the door, looking at Tyson.
COLBIE DEVITT

You rest up, okay?
Tyson nods, smiling at Colbie.
TYSON DEUCE

You got it, babe.
Colbie smiles back.
COLBIE DEVITT

That's the sound of a future world champion there. Let me know if you need anything.
Colbie closes the door, leaving Tyson all by himself in the room. He quietly lies on his bed for several minutes. As he does, he again reminisces about his handicap match with SAW...at least, it was supposed to be a handicap match. He mutters to himself, shaking his head.
TYSON DEUCE

That H.O.T guy was no help. He wasn't even around for the beginning of the match! At least I was able to show the world a little bit of what I could do before...
He breaks off, trying to keep the anger at bay.
TYSON DEUCE
Supreme Machine. That monstrous looking man -- no,
machine
left a trail of wreckage in his path.
Tyson grimaces, thinking about what the machine did to him. And to the others. But perhaps the greatest sin of all, and what brought him to this fate? That Apex Ultima. He had never seen such a move like this. Not even training could have prepared him for such a grizzly, death-defying move. Even now, he couldn't stop trying to find ways he could counter it.
TYSON DEUCE
Someday, when I'm ready, I'm gonna get even with that Machine.
There's conviction in his voice, sheer determination on his face before the view cuts back to ringside for the next contest.
CUT TO:
INT. THE SILVER STATE BALLROOM -- THE RING

GRUDGE MATCH
SATIVA NEVAEH vs KENDRICK KROSS
The match begins with Kross getting an unusual strength advantage and driving Sativa into a corner where he immediately begins to lay in stiff forearm shots to her face! Sativa does her best to clench and manages to block most of the shots from landing effectively. Kross, irate, snatches her by the ankles and yanks her out of the corner, causing her to flop on the mat, bumping her head! Kross then leaps up on the second rope, and goes for a coffin drop but Sativa gets her knees up! OUCH! Kross bounces off them, crying out in pain!! Sativa wastes no time, leaping onto Kross and doing her best to bust his face into pieces with closed rights and lefts! She leaps to her feet and nails a standing shooting star press! But she isn't done! Sativa gets up, pulling Kross with her and in an impressive show of strength she gets him up and nails a northern lights suplex! Nevaeh is on a roll now as she springs to her feet, bouncing off the ropes and nailing another standing shooting star press! She goes for the pin!
ONE!
TWO!
Kross kicks out! Sativa scowls at Neil Rana, mouthing some obscenity at the speed of their count before jerking Kross to his feet but Kross breaks free and straightens up, snatching Sativa and dropping her with a thunderous DDT! He then goes to lock in a Boston crab but Sativa quickly claws to the ropes, clinging to the bottom one. Kross backs off and bellows for Sativa to come at him, which she does only to be taken over in a snap powerslam and this time it's Kross' turn to make the cover!
ONE!
TWO—NO!
Sativa kicks out! Kross is livid! He gets up and yells in the ref's face...and Sativa rolls him up! She props her feet on the ropes as the ref drops down, unable to see the blatant chicanery!
ONE!
TWO!
THREE!
WINNER (VIA PINFALL): SATIVA NEVAEH

Sativa rolls out of the ring as Kross pops up, absolutely livid! He chases after her, grabbing at her and screaming as Sativa exits with a shit-eating grin. He doesn't see CHRIS MOSH HIT THE RING! MOSH HAS A SLEDGEHAMMER! Kross turns around, and Mosh nails him in the midsection with the weapon! He then hauls back and nails him in the back of the head, splitting his scalp open! Mosh stands over Kross, looking down at him with that million mile stare as security charges the ring. Sativa stands at the top of the ramp, laughing.
The feed cuts to an advertisement for the upcoming MULTIUNIVERSAL TITLE DEFENSE to be featured on the March 6th edition of REVOLUTION! The man who may end up the first UPRISING CHAMPION, DON TIRRI will be taking on LASH DONOHUE in his very first defense after defeating MORGAN PAYNE just a few days ago at 1WM's #Legendary13 "Guerra De Las Leyendas"!!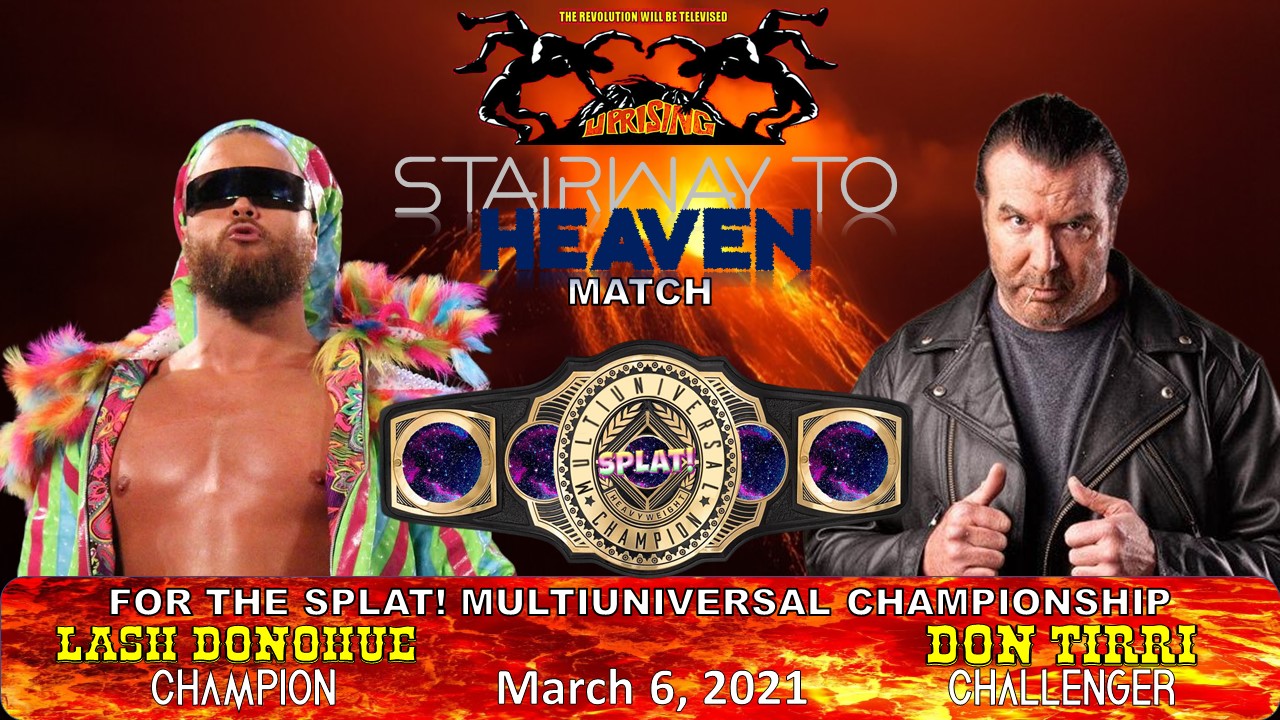 _____________________________________________
CUT TO:
EXT. ELDORADO CASINO -- SIDEWALK

The scene opens outside the Eldorado casino, a couple of hours before showtime. We see GASTON GILLET and ARIANNA MANNING, wearing chef hats and aprons, standing over a barbecue, where they're cooking up a shitload of sausages, fans eagerly waiting their turn for the porky goodness.
ARIANNA MANNING
Hey everyone! Ari here, with your favourite bit of French home cooking Gaston Gillet! We're outside the arena right now, and all these great UPRISING fans are enjoying this little BBQ we got going! Hey mate, enjoy your sausage!
She says as a fan takes his pork sausage fresh off the grill.
ARIANNA MANNING
You know, Regan Voorhees, you were pretty impressive in that ring. Beating Gaston is no mean feat. And hey, that could have been that right? But no. You had to take offense to our little skit. You had to go on social media and do all kinds of petty threats and fist waving. So... it seems to me that you don't get the simple facts of life. The food chain. Your pigs ain't anything but meat for the masses. And frankly, my dear, I don't give a damn if you have a problem with it. Because the simple fact is, I think you're all talk and no trousers. I mean... Duchess of Pork? Pork is the flesh of pigs. You wouldn't claim to be a human rights activist called the Duchess of Flesh, would you? Do you get what I'm saying? I'm calling you a FRAUD, Regan. So I'll tell you what.
She grins.
ARIANNA MANNING
The fans seem to be loving this cookout, so on the next REVOLUTION, Gaston and I will be here before the show again. And we, Gaston and I, cordially invite you to drop the act, and come join us in some consummation of the pork. Hang out with the fans, maybe sign a few autographs?
She shrugs.
ARIANNA MANNING
Now if you have an issue with this, and plan to make good on your threats, and actually care about pig welfare... then consider this a challenge. You have a problem with us grilling up your delicious buddies? We'll be here next show. Come and freakin' stop us, you entitled old sow!
Arianna giggles.
ARIANNA MANNING
Mmm... these sausages are about done. Mighty tasty. You'd hate it if my big hunky man chewed into delicious piggy flesh, wouldn't you, Regan? Hey babe, tell me how it tastes.
Gaston takes a sausage off the grill, bites a huge chunk out of it, then grins.
GASTON GILLET
C'est très bien!
He leans in, holding the half-eaten sausage up, and smirks.
GASTON GILLET
Bon appétit, Madmoiselle Truie!
The fans start clamoring for sausages as we head back to ringside.
CUT TO:
INT. THE SILVER STATE BALLROOM -- THE RING

LUMBERJACK MATCH (THE CRUSH/BROTHERS BUSCH)
RICKY RHODES vs TINY TIM BUSCH
Members of two factions surround the ring as the chosen Lumberjacks: Lollipop, Carrie Cane and Heidi Austin from CRUSH's side respectively and Loverboy & Sam Busch from the Brothers Busch fame. We see faces and expressions ranging from focused and determined to flat out angry and ready to fight anyone who just blinks wrong. Tiny Timothy Busch is already in the ring. Pacing back and forth despite the crowd and the lumberjacks around him Tiny seems to be in a world of his own. His lips are moving but we can't tell what he's saying. TRINACRIA walks out, Ricky Rhodes in the middle flanked by Nico Pazzini at his side, mouth running mile a minute, arms flailing around as if he was explaining some motivational words to his teammate and Vincenzo Riina the big man suited up and purely expressionless behind them. Ricky's smile gets wider the further he gets towards the ringside, he taps his temple and chuckles about his smarts. When the trio make it to the ringside none of the lumberjacks seem to want to make way. Neil Rana steps out from the ring, parting the lumberjacks like Moses did with the proverbial red sea. He walks up to the trio of men and starts to explain something in rather stern fashion and the further the statement goes, the angrier Nico gets, cursing him up and down.
Ricky holds up a hand to shush Pazzini up ,asking the official to repeat it: he makes it clear: TRINACRIA is NOT ALLOWED at ringside. Ricky seems shaken up, the crowd cheers and the Lumberjacks start to smile like a pack of lions watching someone in raw meat underwear. Rhodes dismisses it, shaking his head and asks his friends to step back, making it clear he believes he doesn't need any help. Nico, mad as a bag of badgers, yells out at Ricky to give Tiny "no mercy" pointing at the masked man in the ring before yelling at the crowd to get him a body bag ready! Vincenzo Riina grabs Nico and yanks him back, forcing him up the ramp as the crowd serenades them with "na-na-na. Weee-he-hey goodbye"! Rana gestures for Ricky to stop wasting time and get in the ring. Tiny, being helpful, offers to open the ropes but the official tells him to back up. Finally the two competitors are in the squared circle, official calls them to the center of the ring explaining how it's all going to go down both men size each other up as the bell gets called & rung.
They circle around each other. Ricky steps up close extending a hand to Tiny for a hearty shake, he obliges, Ricky yanks him and starts kicking at Tiny's legs repeatedly. Tiny is yanking his arm away only for Ricky to pull him back in and managing to twist up a locking hold before kicking Busch to the back of the right leg, buckling his knee. Tiny stumbles, confused by what was going on as Ricky continues the assault. Tiny charges at Ricky, headbutting him to the midsection and knocking the wiry man back. Rhodes responds by clocking Tiny with some elbows to the temple on the left and right side. The crowd seems fairly one-sided for the match but Tiny seems to be lost. He wobbles, trying to shake the cobwebs as Ricky strikes and retreats in quick succession from all sides, speed and agility clearly being his forte as he launches a barrage of sneak attacks in an attempt to wear Tiny down. Lumberjacks are shouting words of encouragement and advice, his brothers more with the coaching tips while CRUSH is hyping up the crowd. Every cheer for Tiny seems to bolster Ricky, as though the crowd's hopes have become a poisonous fuel to drive his own agenda further. When Tiny manages to roll away from his legs and get to the ropes to see his brothers, Ricky takes advantage of the situation to land a running knee to the back of Tiny's head before grabbing that masked marvel's mane of hair and yanking his head back. His shouts ring out over the shocked crowd.
RICKY RHODES
THIS IS ON YOU BOTH!
The booing is loud enough to blow the roof off the place as Ricky starts to just pummel Tiny right in the face with a closed fist that earns him a warning from Rana. Rhodes ignores him and the shouted threats coming from Big Sam on the outside. Finally, Ricky holds up his hands, faking compliance but uses it as a distraction to kick Tiny in the gut, knocking the air out him. As Tiny keels over, grasping for air, Ricky taunts him, explaining how this could have all been avoided because nobody is here to help him: not his brothers, not his friends from the CRUSH, not even… then he stops mid-smirk and pulls something out from his t-shirt: SOCKSWORTH! Tiny's eyes go wide when he realizes his friend is right there and he lunges for the puppet. Ricky pulls his hand back and kicks Tiny in the ribs. The youngest Busch brother staggers back and Ricky dangles the puppet again, luring Tiny out for another attempt only with the same result. Third time seems to be too much for everyone except Ricky who's laughing his head off at the tragic display of Tiny just wanting his friend back. He leans in to Tiny's ear and whispers something before standing before Tiny, holding up Socksworth in one hand and gesturing him to get on with it the other.
Timothy Busch looks at Ricky, shaking his head as he starts begging and pleading with him. Ricky nods and the Arkansas native gets on his knees and puts his palms together. The lumberjacks are yelling at Tiny to just stand up to Ricky and kick his ass. Rhodes looks down at the desperate man, the tears running down his face as he puts a hand behind his back before pulling it back out with something hidden in it and swings. Tiny manages to grab the closed fist's wrist with something like a sixth sense. He locks in a vice-like grip squeezing harder and harder. Now it's Ricky's turn to squirm, trying to get free. His closed fist opens and Tiny sees something dropping down to the canvas: a roll of quarters.
Tiny Tim looks furious as he jumps to his feet, keeping his grip on Ricky's wrist while he points the index finger of his free hand in Ricky's face.
TINY TIM BUSCH
YOU!
He starts to stomp on the roll of quarters, howling out: "YOU CHEATED, CHEATED CHEATED CHEATED!" Ricky is trying to plead to Tiny, talk sense to him but by now that was too late. The crowd erupts as Tiny drags the squirming Santa Clara native to a corner of the ring, grabbing him by the hair and slamming him face-first to the padding. ONCE, TWICE, THREE times yelling out CHEATER on every landing. Dazed and confused, Ricky is stumbling along as Tiny moves across the ring, corner to corner repeating this whole process to the delight of the crowd and the lumberjacks at ringside. After the fourth corner, Tiny pushes Ricky down and reaches to yank Socksworth free from the prone opponent's hand. The crowd pops as Tiny embraces his best friend, looking down at the confused Ricky who can't make sense of his surroundings. Crowd roars in delight when Tiny puts a finger across his lips and deposits the sock puppet to his pocket for safekeeping as he steps over Ricky. He grabs him by the hair, yanking his head up before headbutting him back down, only to repeat the process again, and again. Ricky's trying to fight back but he's barely keeping his consciousness as Tiny starts to pummel his opponent's sides with his fists. Poor Ricky doesn't know what hell has unleashed upon him as he tries to protect his face and sides both at the same time, failing on both fronts. Tiny stands up, holding his arms high for the crowd's cheers as Ricky scrambles towards the ropes. Tiny spots it and stomps after Ricky, grabbing him by the leg. Rhodes lunges for the ropes only to see it yanked back by a smirking Lumberjack. Crush's Lollipop squeezes on the rope as Heidi Austin waves politely and Ricky is left grasping for thin air as Tiny drags him to the middle of the ring and starts to stomp him. The snake that he is, Rhodes manages to slither closer to the ropes and he finally falls out to the floor, right at the feet of Sammy and Loverboy; both men grab a tight grip on him and as Loverboy provides cover from the official's eyes, Big Sam knees Rhodes between the legs. We hear Ricky howl in pain before he gets tossed back over the ropes to Tiny. With a smile, he helps Ricky to his feet, taps him on the shoulders, then on the head to make sure the wobbly opponent stays still...then Tiny steps back and puts his arms up to the sides and HE LETS OUT A DEAFENING BATTLE CRY!
Spinning backfist sends Ricky tumbling back to the ropes. He grabs them, trying to find his bearings and just when he finally thinks he's got the world to stay still, something yanks his feet from under him and he tumbles down face-first.
CARAMEL CANE
Sorry! It's still really slippery out here!
Rhodes is trying to stagger up, shaking the cobwebs away but he's stumbling around like he's drunk. Tiny sneaks up closer, reaching into his pocket and hushes the crowd as he pulls out a dear friend. Sadly the crowd does not oblige they start a loud "SOCKSWORTH!" chant. Ricky can't seem to see it coming but hears the chants and he puts up his hands, shaking his head furiously as Socksworth darts in through the wobbly defense right between the "No, no, no's" and right to his gullet. Rhodes gags and gulps, trying to pull his head away but Busch's free hand grabs him by the back of the head, keeping him in place. He jumps and flails around only for Tiny to tighten his hold. The two men are damn near dancing around in the ring as the crowd chants for SOCKSWORTH! Ricky seems to be fading when Tiny pulls him to a violent stop, hoists him up and slams him down back first to the ring, sending the broken roll of quarters flying as Rhodes hits the coins with the back of his head. Tiny leans in with his mass and Rhodes is out. The official drops down and checks on Ricky, before calling for the bell.
WINNER (VIA REFEREE STOPPAGE): TINY TIM BUSCH
Tiny is pulled off the by official and he screams out over the sound of the crowd.
TINY TIM BUSCH
KEEP THE CHANGE, RICKY!
He looks at Socksworth, then the fans cheering for him and then the lumberjacks storming the ring. His brothers hoist Tiny up on their shoulders as CRUSH unceremoniously deposits Ricky Rhodes out of the ring. A chant of "TINY! TINY! TINY!" breaks out as the youngest Busch Brother looks down at his friend before yelling out.
TINY TIM BUSCH
YO SOCKSWORTH, I DID IT! I TOOK BACK THE RING~!
Slowly, the groggy Ricky is coughing and crawling his way towards the back only to be greeted by Vincenzo and Nico who help him to his feet. The trio flee like scalded dogs but Ricky hesitates before disappearing from view and Tiny waves at him before we cut away from the in-ring celebrations to another ad for THE DEMON OF DURANGO, new episode coming next week!


_____________________________________________


CUT TO:
EXT. SOMEWHERE IN RENO

We see a 6'6" frame of a man standing in front of a stained glass window, dressed in all white and smiling wide to the camera.
LUTHER THUNDER

Coronation, the night to crown one true champion of UPRISING. Don Tirri has said a lot, he has had more than his fair share of the limelight, he has been on the shows on social media, he has made all these claims of how the fans don't like me.
The man smirks and we see a screenshot that looks to have been taken from someone's Instagram account.
LUTHER THUNDER
He made his poll in an attempt to push that agenda. I won the vote, yet the fans hate me?
His tone remains mild as we see another faded picture pop into view, this time from Twitter.
LUTHER THUNDER
But I am the bad guy; I am the guy who succeeded despite where I came from. Because I am a self-made man, who invested my money smart, because I dressed better, I am the villain? Tonight you can have the self-proclaimed "People's Champion" Don Tirri, the everyman himself, going up against me...the man who collects all these championships to a trophy case.
The man kneels down to the pulpit and looks right into the camera.

LUTHER THUNDER
Let me tell you something, let me tell you the truth, brothers and sisters. I am a regular working class Dutchman who left his native country for a better life, for the great American Dream, for the land of the free and the home of the brave. Where anyone could be anything if they wanted enough. So I went from promotion to promotion, working my fingers to the bone, to be the very best I can be. Yet I am a big bad corporate wolf who is here to huff and puff your house down? Brothers and Sisters. I am here as one of you and I am here as a living, breathing testament of hard work and determination. I have always lived my life by the rule if you get then you give. Tonight is time for me to give back to UPRISING because tonight it is my chance to impart to the stars of tomorrow of the same values that I have learned: honesty, compassion and fair play.
He smiles widely opening his arms for the people to see.
LUTHER THUNDER
Don Tirri has told you his version of the story, his own narrative. Follow me to a better tomorrow, for a world fitting for 2021. Tonight one of us two will walk out with the championship. That is a certainty, but you, the people... you have the opportunity to choose who you want to support. Do you really want a slicked-back, old dog of the past who knows all the tricks in the book and who has played you all for fools... OR do you want a modern, pure and professional champion of the future?
The silence invades for a moment, making that question resonate.
LUTHER THUNDER
Don Tirri likes to tell a story where he's the underdog. Where he is overlooked and underestimated. The choice is yours, fans. You saw what he did to make it here, from the very first round he was underhanded. Only one of us will walk out tonight with a win. Do you want the greasy, leather-clad, toothpick-flicking "veteran" of the past to guide you all to the future?
He shakes his head, as though the thought of it is simply absurd.
LUTHER THUNDER
There is a chance you may just not get him because as much as Don Tirri likes to brag about his big boot that laid me out, that was during a triple threat. He chose to deal me out, but tonight it will just be him and I. He can't just pick someone else. If you think Don Tirri can just put me down like a dog, if you think Don Tirri can just put Luther Thunder out of the competition, then you obviously don't know Luther Thunder. I am a man who does not give up. For years I have had my opponents mock and ridicule me, belittle me with every breath yet I have gone through them. I have even RETIRED some of them out of this industry. Yet Don Tirri, with his bravado and his brash attitude believes that this is his time.
Luther smiles wide as a Cheshire cat.

LUTHER THUNDER
I welcome him to try it, because tonight is the CORONATION and neither one of us is going to have an easy night. So if he wants to fulfill his legacy, if he wants to grab that prestigious title, all he has to do is beat me. However as far as his chances go, I would not bet on him. My name is Luther Thunder and I may not be perfect. I may not be a superhuman; I am only human. I am only a Thunder after all.
He pauses for a moment to let that sink in.
LUTHER THUNDER
So whatever happens tonight, DT, don't put the blame on me.
He winks at the camera with a cheeky smirk.
LUTHER THUNDER
I'll see you out there, Don.
We see the big man walk off before the view returns back to ringside.
CUT TO:
INT. THE SILVER STATE BALLROOM -- THE RING

VIOLENT-ASS CAGE MATCH
SAW vs H.O.T
The cage is finished being assembled around the ring with the two competitors inside it. Being a Violent-Ass Cage Match, various weapons, objects both foreign and American are tied to the walls of the cage; noticeable in one of the neutral corners there is a large potted cactus. The official calls for the bell, and we're underway! SAW goes for a lockup, but H.O.T, slaps his advance away, punching him in the ribs and telling him to fight like a real man. SAW growls, shaking his head and fires a punch back into the ribs of Triggs, telling him to bring it then. The two fire the shots back and forth, taunting one another in between strikes, before on H.O.T's turn, SAW grabs his arm and whips him over with an arm wringer flip. H.O.T lands on his back, kipping up to sit, before eating a front kick to the mush. SAW looks to go for a full mount, but gets smacked away as H.O.T rolls up, scrambling to the cage wall and ripping a kendo stick off it. SAW comes in, but eats three vicious rib cracks from the stick, as Hayden taunts him, saying he thought he liked this fancy martial arts shit, before cracking him over the back of the head. SAW stands right back up, seemingly barely fazed by the shots, and as Hayden swings again, he catches the stick under his arm, before grabbing H.O.T by the throat, lifting him over his shoulder, before charging and lawn darting him face-first into the cage.
SAW comes in, stick in hand, but Triggs ducks away as he swings, and the stick smashes the steel wall of the cage as H.O.T yanks a steel chair off another part of the structure. SAW continues to swing at Triggs, who's basically using the chair as a riot shield. SAW smartly swings at the legs, but H.O.T stamps down on the stick, momentarily trapping his opponent before smashing the chair down in the back of his head. Grabbing SAW's ankle, he jams the chair into the back of his kneecap before stamping it down repeatedly into the joint, looking to slow the big man down. He's looking like he might try focus a submission on the leg, but SAW uses his free leg to kick him off, before kipping off the floor into a takedown, this time getting the full mount and driving hard elbows into the sides of Triggs' head.
After the initial shock, H.O.T gets his guard up, but as he tries to manouver out from under SAW, it becomes clear that his MMA expertise and larger bulk is going to make that nigh on impossible. Luckily for Triggs, this isn't an MMA Octagon fight, and he is able to reach over and grab the stick from earlier, walloping SAW in the head with it which forces the break. As both men get back to their feet, it seems the shot gave SAW a large gash on his forehead which is trickling a little blood. Triggs mocks him, before going in again, firing shot after shot into the wound and trying to open it up. As SAW goes to the mat, Triggs grabs his head, and starts grinding his forehead wound into the steel mesh, as he taunts him. He finally pulls him up, shoving him spine first into the wall, before stepping back a few paces and hitting his signature spear Resentment, smashing his whole body into the wall. H.O.T goes for the eventual first cover of the match.
ONE!
TW—NO!
Triggs doesn't seem especially frustrated, if anything, he seems to be enjoying himself as he scans the cage looking for some new toys to play with. He yanks a large metal road sign off the cage wall which reads 'DEAD END'. As SAW gets up, H.O.T goes to smash him with the sign, but SAW quickly trips his legs, causing Hayden to stagger backwards, where he falls butt-first right onto the potted cactus. The sign clatters to the floor, as Triggs yells out, as SAW quips that Hayden is now the one with a "dead end" before joketime is over. SAW picks up the sign and starts choking Triggs with it against the corner of the cage. Hayden is fading, seemingly having nowhere to go, but in a last gasp act of defiance, he swings his right boot, crunching SAW right in the nutsack. The sign falls down and so does SAW, as H.O.T coughs out and spits, trying to get his breath back. Scouring the cage once more, he sees something all the way up at the top... the camera pans up and we see it's a railroad spike! Triggs smirks, and starts climbing up the wall of the cage to try and get the weapon. SAW meanwhile crawls up behind him and just as H.O.T grabs the weapon, SAW grabs him from behind, and flings him off the cage wall with a wild German suplex. Hayden crunches unprotected into the mat, the spike flying God knows where. Hayden staggers to his feet, and SAW grabs him, hooking his arms and flipping him over and around with the 360 Adonis Driver, smashing his head into the steel chair for added impact. He covers!
ONE!
TWO!
THREE!
WINNER (VIA PINFALL): SAW
SAW takes a few moments to compose himself, wiping the blood out his eyes before the official raises his hand. He looks down to Triggs, telling him that he's looking forward to that drink, before leaving the cage.
CUT TO:
INT. ELDORADO CASINO -- BACKSTAGE

We find one of the five competitors for the Last Chance Battle Royal, MATT STONE, hanging around in catering, talking to one of the stage hands. It's not a conversation because he really couldn't care less what this person has to say or think, it's all about him. This guy is so low on the totem poll that unlike Steve, we don't even know his name. All we can tell from this exchange is that if he walks away from this conversation, he's afraid he'll get fired.

MATT STONE
So that's when things really started getting interesting. I'm standing there holding two glasses of wine at the doorway just watching this brawl going on and the whole time I'm just thinking I can do better than that. These guys don't know how to fight, they're just drunk amateurs so I set the two glasses down on the table and just get in there and kick their asses! Oh what fun that was, they didn't have a chance against me! I'm telling you man, when it comes to these types of situations, I thrive on the chaos! It calls to me!

Almost as soon as he says the word 'chaos', LOGAN LEWIS comes peeling by him on a skateboard, nearly taking Stone out! Matt jumps a bit, disturbed at the blur going by him until she kicks down on the back of the board and comes to a stop, kicking the board up into her hands.

LOGAN LEWIS
You know you should really watch out, Stoney. You almost didn't make it to our Last Chance battle royal.

The stage hand couldn't be any happier to be able to walk away from Matt and his self-absorbed conversation as another stage hand walks over and hands Logan a mini tray with four mozzarella sticks on it. She lets her skateboard go and it rolls away, ending up under the catering table. She takes a big bite of one of the sticks and holds it up.

LOGAN LEWIS
Mmmmm. Good. But, sorry, I'm rude. What were you guys talking about? I'm willing to continue the conversation for you. It's the least I can do before I personally eliminate you later tonight.

Matt's just staring at her for a second, both shocked and annoyed that anyone would dare interrupt him, especially Logan.

MATT STONE
Excuse me, Miss Dennis the Menace...that's probably too old of a reference for you but you're a slingshot away from completing the look, I assure you. What's-his-name and I don't need you to finish our conversation.

Matt turns to resume that conversation only to find that they're alone. With an exasperated expression, he returns his gaze to Logan.

MATT STONE
Look what you did! You scared him off with your reckless endangerment of his life! You're right about one thing though...you are rude and it's not going to be you eliminating me, it's going to be the opposite of that with me eliminating you! So...you know...take that!

Logan sits her tray down on a table next to her and brushes her hands off while struggling not to burst into laughter.

LOGAN LEWIS
That's all I am to you, isn't it? Some annoying kid who is nowhere near your level. I could say that Chris Mosh said that, and look what happened. Don Tirri thought I was digging my own grave, and I took him to his limits a few times and look where he is now. Underestimating me is going to be your downfall and then you'll have no one to blame but your favorite person...

Logan approaches Matt, stopping directly in front of him.

LOGAN LEWIS
...YOURSELF!

Matt raises an eyebrow at her, not backing down but certainly looking down at her.

MATT STONE
Was that meant to be an insult? Of course I'm MY favourite person; I should be your favourite person too! But, after that unkind equating of myself and Chris Mosh, I'd wager I'm not. You could learn a lot from me kid, and that's just a fact. I don't underestimate anyone. I belittle them because it's amusing but I don't enter any wrestling match underprepared. I'm like Scar taking over Pride Rock out there, I'm always prepared. You on the other hand? You just keep coming up a little short, don't you? I'm the only one going into this match that hasn't lost, and that's going to remain intact. End of discussion.

The part about coming up short seems to have hit Logan pretty hard. Instead of push the issue, she nods her head. This is how he wants it? So be it. He is undefeated, there's no disputing it. She knows he's not above belittling anyone, just like she knows he's playing mind games with her now.

LOGAN LEWIS
Then I guess I'll see you out there.

She picks up her tray, which Matt quickly smacks out of her hand, knocking the remaining cheese sticks to the floor at her feet. Logan's face turns beet red as she steps up, bumping her chest against his before security steps between them, pulling the young rookie away.

LOGAN LEWIS
You're going to pay for that out there, Matt! Oh my God, you're going to pay!

Security begin to push Logan down the hallway and away from the veteran, effective granting him the last word.

MATT STONE
Pay what? Like three bucks?

Matt laughs as she's ushered down the hallway, finding it all too easy to get under her skin before the big match, sending us off to another advertising break for upcoming SPLAT content!


_____________________________________________


CUT TO:
EXT. SOMEWHERE IN RENO

A rare moment indeed as SCOTT DUNN stands facing the camera with a serious look on his face, brow furrowed, voice deep and slow.
SCOTT DUNN
Tonight...there will be dra! Tonight isn't business, it's just personal. One man seeks revenge against another man because he said something mean on the Internet. Tonight, one man will DIE!
That serious look soon vanishes, though, replaced by his more regular lack-of-shit-giving look.
SCOTT DUNN
Sounds dumb, doesn't it? Aye, it does, but that's Knoxy's entire fucking blabber about tonight. News flash: it's just wrestling, you absolute fucking goober. You're out here talking about how it's personal, about how you're going to kill me…
He laughs, and not sarcastically.
SCOTT DUNN
What kind of a soft cock are you? I never saw a guy cry so much about being a fucking victim after instigating it all to begin with. I could rehash the same tired shit but we both know how this all started. All you've done is made it blatant that you're the softest fucker in the company, and we work with Kendrick Kross for Christ sake.
The shrug is massive; Scotty clearly thinks Knox is dumb for this.
SCOTT DUNN
Rehashing is your MO. You mention the same couple of things every time, predictable as fuck, because you don't actually have much ammo to use. This situation right here is all your temper tantrum, you throwing one because stupid shit YOU said got repeated. For a guy who says my words don't mean much, they sure brought you to the dance tonight.
He uses his fingers to imitate, badly, Knox's dancing. Then he points dead at the camera.
SCOTT DUNN
You can say whatever you like; I don't care, pal. Truth is that tonight ain't personal, not for me. Tonight is just work, just another match, just another stupid cunt in the ring. You're not my rival, not my nemesis, you're the guy I'm bored of. You're such a boring drag; between you, the dragon and Don Titty this is a boring as fuck place to work. So after tonight I'm done taking pity on you and giving you my attention, I'm gonna be all about making Uprising fun for me. So, in summary, fuck you and goodnight, bitch.
And with that he's done, gone from camera shot and off on his way as the view returns to ringside.
CUT TO:
INT. THE SILVER STATE BALLROOM -- THE RING

MONSTER VERSUS MONSTER: FIRST BLOOD MATCH
"THE ANSWER" JC vs LEGION
The bell rings and JC and Legion slowly approach in the middle of the ring. JC is all business, staring the smaller monster down as Legion sports a wide grin, shoulders bouncing as they vibrate with an unnerving laughter. JC's expression stays flat as Legion's face remains contorted in laughter. Having seen enough JC hauls off and clocks Legion in the jaw! Legion falls flat on their back and lays there, laughing up a storm! JC goes to pull Legion up but the smaller, younger competitor suddenly latches on and locks in a wristlock on JC, wrenching for all they're worth. The lightning bolts of pain drive JC to one knee and Legion follows it up with a knee to the side of the head! And a second one! A third knee strike! Legion laughs once more, and goes for a forth but JC bellows and suddenly drives Legion into a corner, gets his wrist free and begins to thrust his shoulders over and over again into Legion's midsection!
Legion falls into a seated position and JC rips the top turnbuckle pad off! He's looking to draw blood and go home! He pulls Legion up and hauls their head back, bashing it into the exposed turnbuckle! Legion's head bounces off the unforgiving steel, laying them out….but Legion is NOT bleeding! JC shrugs, indifferent and seemingly satisfied to just keep inflicting punishment on Legion. He lifts the younger fighter up, before sending them back down with a ripcord lariat. JC lifts Legion up once more; the younger fighter seems wobbly on their feet but still can be heard cackling as JC lifts them up and nails a powerbomb! OH NO! JC ISN'T DONE! He lifts them up again! And drives them down again! JC goes to lift Legion a third time but suddenly it seems the progeny of the legendary Spiral has had enough as they thumb JC in the eye and pushes off his shoulders, nailing him with a codebreaker! Legion leaps upon JC and locks in the BLOOD EAGLE!! ALMOST! JC MANAGES TO SHOVE A THUMB IN LEGION'S EYE THAT GETS THEM TO BACK OFF! JC scrambles to a vertical base as Legion favors their eye, grinning like a lunatic. The two monsters begin to circle each other once more, JC suddenly decides to go for broke and lunges forth with a BIG BOOT OF DEATH but Legion ducks it! They bound into ropes, bounces off and nails JC with an IMPALER! He gets up and scrambles to the ropes, running up them deftly, turning back to JC and nailing FROM HELL! Legion kips to their feet and grins at the crowd that boos them before lifting JC to his feet, snatching him by the back of the head.
Legion goes to ram JC's head into the exposed turnbuckle but JC blocks the attempt with his boot and snatches Legion, SLAMMING THEIR FACE INTO THE EXPOSED STEEL AGAIN….BUT LEGION STILL DOESN'T BLEED!! JC stares down at Legion in disbelief, and slides out of the ring. He hauls back a fist that sends the time keeper running! JC snatches the chair and rolls back into the ring, stalking Legion. Legion gets to their feet slowly. JC yells out and tosses the chair; Legion catches it and then JC BASHES IT INTO LEGION'S FACE WITH A BIG BOOT OF DEATH! LEGION. STILL. DOES. NOT. BLEED! JC has his hands on his hips, he goes to pull Legion up and freezes as his hand touches their forehead. He furrows his brow and suddenly begins PEELING LEGION'S FLESH FROM HIS FOR—NO! THAT'S LATEX! LEGION HAS BEEN WEARING FACIAL PROSTHETICS DURING THE MATCH! LEGION SUDDENLY YANKS A RAZOR BLADE FROM THEIR WRIST TAPE! They swipe at JC who dodges! Legion lunges again but JC catches their wrist and crushes Legion's hand. JC smiles down at Legion, who is holding their bloody right hand. The razor blade has slid an inch under the skin into the meat of their palm. Thick ribbons of blood spill out of the wound and splatter on the canvas. JC is laughing smugly as the referee grabs his wrist and raises his muscled left arm.
WINNER (VIA FIRST BLOOD DRAWN): "THE ANSWER" JC
Legion's face lifts and, slowly, the corners of their lips pull up to their cheeks and their lips offer a toothy grin. JC, still laughing, starts to turn away but stops when the crowd reacts. Women shriek. Men groan. Children watch wide eyed as Legion pulls the razor blade out of their hand and raises it in the air. They then open their mouth, stick out their tongue, and place the razor inside their mouth. JC stops laughing and his face tightens in confusion as he watches Legion close their teeth around the blade. Faces in the crowd are wide-eyed and slack-jawed. JC, made of sterner stuff, watches with a morbid curiosity as blood begins to seep out of Legion's mouth. THEN THEY OPEN THOSE BLOODY LIPS AND SPEW A STREAM OF BLOOD IN JC'S FACE. The Answer stumbles back and shakes his head. Strands of blood rip off his crimson mask and splatter across the mat. When he stands, his face, neck, and upper chest are smeared with strokes of red; and Legion couldn't stop laughing, their mouth agape and blood spilling out over their teeth.
Something snaps in JC. His eyes go wild, full of fire, and his face peels back from rage. He lurches forward and seizes Legion by the shoulders, who doesn't resist even when JC throws them to the ground. The Answer drops over them and begins raining down punches. One connects across the jaw, the next clips their brow. One after the other fists fly down and smack Legion across the face, and with every one they cackle madly, only stopping briefly with each impact, like a needle skipping across a warped record.
The meaty impacts sound like a wet bag being flogged under a dwindling rap of laughter, until finally Legion's face is hidden under a sea of bruises and blood. JC lets out a roar between heavy breaths, then flips Legion over onto his back. He grabs each of the other's wrists and pulls them into the air, lifting their head off the mat.
"THE ANSWER" JC
IS THIS WHAT YOU WANT?
Legion stares out across the crowd with one eye, as the other has completely swollen shut. He gives a maniacal howl and then sucks in a lungful of air.
LEGION
Yes...DO IT.
JC raises his right foot and prepares to deliver a good ol' fashioned curb stomp to the back of Legion's head. He begins to kick but stops abruptly. For the first time since the show began the arena is silent. JC lifts his eyes and looks out over the faces in the crowd, all of them full of judgment. He looks down at Legion and let's go of their hands, letting the other wrestler fall flat on the mat. JC turns without a word and leaves the ring. As he walks up the aisle he stares down at his feet, never looking at the fans lining the barriers. In the ring, Legion has rolled onto their back in the center of the square. Blood is gathering under their head and hand. Their crusty lips are stretched back from their teeth which are stained red. For a moment, the only sound heard are Legion's gaspy, rusted giggles, UNTIL—
THE LIGHTS GO OUT.
The crowd comes alive, screaming and yelling. Seconds pass and then the lights power back on. They're on their feet to see Legion has vanished, leaving behind only a disturbing silhouette of an angel surrounded by spilt blood.
_____________________________________________
CUT TO:
INT. ELDORADO CASINO -- BACKSTAGE

We open up backstage, where Ignis is stood next to a TV screen, looking at it at a weird angle as wrestler always do, for some reason. She then turns to the camera, pretending to act surprised. Unfortunately she's about as good an actor as Matt Damon.
IGNIS

Oh, hello! I didn't see you there! Some really nice people have put together a little hype package for me, going into the Last Chance Battle Royal tonight, so I thought we could watch it together! Roll it, monkeys!
~~~
We see a kid outside the arena, waving an Ignis sign, yelling excitedly.
FAN
Ignis is gonna win, whether she wants to or not!
We cut to shots of the crowd chanting for Ignis, which has clearly been turned up and bass-boosted because there were like twelve people chanting tops.
VOICEOVER
Wrestling is about superstars. People who are larger than life, doing things you could only dream of.
We see brief snippets of Luther, Tirri, Dunn, Marou, Knox etc.
VOICEOVER
And then there is Ignis, who is and does none of those things.
Creed's 'My Sacrifice' starts playing (because of course it fucking does) and we see a highlight reel of Ignis getting thrown into a wall by Sativa, punched by Dunn, put through a table by Dunn, getting incinerated by Kalinda.
VOICEOVER
But at least she's kinda funny, right?
We see Ignis smashing Mosh with a bedpan, which is queued up like six times with various filters applied.
VOICEOVER
Ignis... the only wrestling choice for the blind fucking optimist.
The end credits scroll by so quickly that they're completely unreadable.
~~~
We head back to backstage where Ignis doesn't look best pleased.
IGNIS
WHAT THE HELL WAS THAT?!
She stomps off angrily, looking really upset as we head back to ringside.
CUT TO:
INT. THE SILVER STATE BALLROOM -- THE RING

"I QUIT" MATCH
MATTHEW KNOX vs SCOTT DUNN
The camera cuts to the back where we find Matt Knox and Scott Dunn have decided to start trading blows before Knox's theme has even finished playing. Dunn pulls Knox's sleeveless hoodie, a part of his entrance attire, over his head and begins throwing bombs up into his midsection. He then lifts him and throws him down onto an equipment crate, going to hammer down another blow on him but Knox gets his guard up, and manages to block the blow, then snatches Dunn by his bald head and bashes his knee into it, sending him reeling. Knox then kips up on the equipment crate, and leaps from it nailing Dunn with a leaping thrust kick that knocks him on his ass!
Knox then rolls the equipment crate out, and shoves it as hard as he can at Dunn who has gotten up! Dunn catches it, stopping it from rolling into him but Knox has pursued the equipment crate and leaps up on it, baseball sliding across the surface to nail Dunn in the face with another kick! Dunn yells in anger and snatches Matt by the ankles, yanking him off the crate and slamming him into the wall, going right back to throwing bombs into Knox's midsection and face. Knox clenches up, weathering the storm and waiting for an opening! He once again sends a straight jab into Dunn's face, then steps aside and bashes his head into the wall, denting it! Knox then drives a knee into Dunn's midsection, before lifting him and nailing him with a pumphandle slam THROUGH THE LID OF THE EQUIPMENT CRATE! Neil Rana immediately begins checking on Dunn, asking if he wants to quit but Dunn shoves the man away, crawling out as Knox pulls his hoodie off, getting into a traditional Muay Thai stance and staring Dunn down. Dunn spits a small glob of spit and blood, then grins as he shouts:
SCOTT DUNN
That all you got, motherfucker?!
Dunn bellows before hopping out of the wreckage and charging Knox! Before Knox can react, Dunn has lifted him up and remains CHARGING DOWN THE HALL! He slams Knox down THROUGH THE CATERING TABLE! STEVE STANDS AGHAST, HOLDING HIS PLATE OF VEGAN DEVILED EGGS (THEY'RE MADE WITH PICKLED MUSHROOM CAPS AND GARBANZO BEANS)! Dunn rises up, sneering at Knox. He then glowers at Steve before slapping the plate from his hands, palming his face and shoving him away.
SCOTT DUNN
FUCK OFF, STEVE!
Dunn turns back to Knox, sweeping his legs out from under him and following with an axe kick that nails him across the throat! Dunn rolls on his hands and knees, favoring his throat with one hand and crawling away as he coughs. Knox staggers up, covered in foodstuffs and kicks something as he starts after Dunn. He looks down and sees A SKATEBOARD?! He grabs it and moves after Dunn, screaming.

MATT KNOX
Had to bring my kids into it, huh Scotty?!
He drags it along the wall as he follows where Dunn's crawled off to, staggering as he tries to keep himself upright.
MATT KNOX
Had to go there, didn't you, you stupid son of a bitch?!
And with that, he blasts Dunn across the back once, twice, three times! The skateboard snaps on the third impact and Knox flings it aside, kneeling down on Dunn's back and driving a knee between his shoulders. He starts laying fists into the back of Dunn's head but the bigger man fires an elbow back, catching Knox in the mouth! Knox's lip is split and he's bleeding as he falls off Dunn, rolling through and into the bingo roller containing the rest of the balls for the tag team tournament! They go everywhere! Knox gets to his feet, holding a CHARTREUSE ball which he quickly discards as Dunn gets up, looking absolutely furious! Knox charges in, but Dunn catches him and in a display of absolute raw power he lifts Knox from his feet, tossing him brutally into the staircase leading to the second level! Knox sprawls out on the stairs, the wind knocked from him as Dunn stretches his arms out, screaming.
SCOTT DUNN
That all you got, sunshine?
With that, Dunn yanks Knox up by his hair, bashing his head into the handrail before dragging him up the stairs, evil intent on his mind! He gets about halfway up when Knox begins firing elbows into his midsection but Dunn is having none of it! He lets go of Knox's hair and brings a double axe handle on the back of Knox's neck, sending him down to the steps once more! He then begins stomping him before lifting him and shoving him up the stairs. At the top, Knox sets his feet and meets Dunn with a stiff right as he reaches the top himself! The two begin trading right hands! The fans go absolutely nuts as Knox and Dunn emerge on a second level balcony overlooking the production crew! Dunn grabs Knox in a Muay Thai plum and begins driving earth-shattering knees into his ribcage! Knox looks to be faltering as he drops to one knee. Dunn looks over the side, and grins. The fans cheer loudly for the carnage! This has been more of a fight than anything resembling a match! And Dunn is looking to win it! He pulls Knox up, watching him stagger in front of him before paying him a slap to the face, a bloody grin spread across his features! Suddenly, Knox headbutts Dunn!!! He snatches him and nails a SPANISH FLY OFF THE BALCONY AND THROUGH THE PRODUCTION EQUIPMENT BELOW! SPARKS FLY AND WOOD SPLINTERS! BOTH MEN LAY STILL WHERE THEY FELL!!!
Neil Rana makes his way down the stairs quickly, medical begins to assemble in the gorilla position! Finally, the ref makes it to the carnage! Neither man has moved an inch! The ref grabs both hands and raises them! They fall!
ONE!
He raises both again! BOTH FALL AGAIN!!
TWO!
He raises both again, BOTH FA--NO!! MATT KNOX'S ARM STAYS UP, HAND BALLED INTO A FIST! DUNN'S HAND FALLS! THE REF CALLS FOR THE BELL; DUNN IS UNABLE TO CONTINUE!!!!!
WINNER (VIA REFEREE STOPPAGE): MATTHEW KNOX


CUT TO:
INT. ELDORADO CASINO -- BACKSTAGE

JC is spotted storming down one of the hallways, making his way towards the parking lot. His bag seems like it was packed in a hurry, as it's half open and one of his wrestling boots is clinging to life, hanging out of the opening. He turns a corner and almost runs into AMBER RYAN, who seems almost surprised to see JC almost half way out the door.

AMBER RYAN
Hey, what's with---

"THE ANSWER" JC
I...I don't really have time.

He tries to move past her but she doesn't let him go quite that easily, in spite of the size difference between them she manages to slow him down a few seconds longer.

AMBER RYAN
That's not what I was gonna ask. It's not like you at all to be racing out the door with time left on the show… so, what's up?

He's more than a little annoyed at being delayed, especially since all he wants to do is leave. He glares at her for a moment.

"THE ANSWER" JC
How exactly do you know what's like me or not? You don't know me.

He places a hand on her shoulder and gently pushes her out of the way. She doesn't offer much resistance, possibly due to the shock of the physical contact or just knowing he doesn't want to be bothered.

He glances back as he heads to the parking lot, now unobstructed.

"THE ANSWER" JC
I don't even know me.

JC lets the door close behind him as he gets the hell out of Reno.


_____________________________________________


CUT TO:
INT. ELDORADO CASINO -- MEDICAL OFFICES

A smiling LARRY GOWAN stands in the whitewashed hallway outside of the medical area – no real surprise since the catering area has just been destroyed and the GM's office is still being repaired thanks to the antics of JC and LEGION on the previous REVOLUTION. That whiteboard is still there with the names of the tag teams on it, although it's since been updated to reflect things now that the drawings of the three random teams have been completed. The diminutive former wrestler runs a hand through his hair, smoothing back the lime green-streaked strands – his hair perfectly matches the silk tie he has on with his black short-sleeved dress shirt. He looks professional, polished and quite overjoyed to be here. Glancing back at the whiteboard, he makes sure the camera focuses in on that for a moment to show off the names.
1. THE RING CREW
2. SMILES PROTECTION AGENCY
3. SUPER ULTRA FRIENDSHIP GANG
4. THE CRUSH
5. TRINACRIA
6. THE GEMSTONES
7. THE BROTHERS BUSCH
8. TEAM CHARTREUSE (REGAN VOORHEES/MATTHEW KNOX)
9. TEAM ORANGE (JENSON IDOL/SCOTT DUNN)
10. TEAM AQUA (AMBER RYAN/MAC BANE)
LARRY GOWAN

As you can see, we've got quite the stacked set of teams for this tournament – this one will be a little different than how things went for the UPRISING CHAMPIONSHIP. No second chance rumble, of course. Instead, we'll be running this as a double elimination tournament. That means it's possible to lose a match and still come back to win in the end. That means that we'll be running this tournament beginning on the next episode of REVOLUTION and carrying on until the finals happen at our next Supershow. I've done a random drawing, entering the teams into the program in the exact order you see here. No tinkering. No tomfoolery. The
brackets generated
were at random. So, without further ado, here's what you can look forward to in the first two rounds.
LARRY GOWAN

I'm looking forward to seeing what this fantastic tag division can do! And now, without further ado, let's get back down to ringside for the Last Chance Rumble!
CUT TO:
INT. THE SILVER STATE BALLROOM -- THE RING

LAST CHANCE RUMBLE FOR #1 CONTENDER
MATT STONE
vs
IGNIS
vs
LOGAN LEWIS vs SAMANTHA TOLSON vs AIDEN ROMERO
All five hopefuls start off in the ring together and the moment the bell rings, it's almost as though there was some sort of pact made beforehand – Ignis and Samantha Tolson immediately dart at Aiden Romero and send him at the ropes with a double team Irish whip. He comes back and Tolson hits him with a shoulder block before Ignis drops a leg across his neck. For a second, it looks like Tolson might start stomping a mudhole on the man least favoured to win and then Ignis turns and charges at Tolson with a vicious clothesline. Logan Lewis and Matt Stone are trading shots and verbal assaults in the middle of the ring as Tolson rocks back on her heels from the shot by the smaller Ignis but doesn't go down. Instead, she fires off a stiff European uppercut to The Firebird, knocking her back and then taking her down with a German suplex. Meanwhile Stone responds to a jaw-busting punch by sweeping Lewis off her feet with a front takedown. Logan drops Stone to the mat with a drop toehold, leaving the Canadian grounded for the moment. She turns around and right into a big boot from Aiden Romero and as she stumbles back, Tolson takes her down with a release suplex!! It's absolutely insane, the pace breakneck as Ignis springs off the ropes, looking for a DDT but Romero catches her and hoists her up on his shoulder. He carries her over to the ropes and goes to toss her over – HOLY SHIT! Ignis catches hold of the rope, uses it for leverage and hurricanranas Romero over!
AIDEN ROMERO HAS BEEN ELIMINATED!
The crowd pops as Romero hits the floor and Ignis turns around into a fresh assault from Tolson, getting nailed with a lariat that might have eliminated her if she'd been a little closer to the ropes. She hits the deck and Tolson catches her in a leg bar grapevine and twists The Firebird's leg. It's not on for long though as The Firebird catches the bottom rope with her foot, hooking it and pulling herself into it for the break! Stone meanwhile tries to make it to his feet, but Logan Lewis stops that with a side headlock that turns into a speedy bulldog – WAIT NO! She tries to underhook one of Stone's arms only to get plastered with a release suplex! Ignis slings Tolson to the corner and comes in looking for a flying body splash, but Tolson moves, leaving nothing but turnbuckle instead. She doesn't have time to relish that reprieve as Logan Lewis crashes into her from behind, having been launched with a giant swing by Stone and the two women both end up going over the ropes. For a second it looks like they might've both been eliminated but Tolson manages to hook the ropes and Logan crash lands on the apron and by sheer instinct rolls back in under the bottom rope! Lewis ends up at the feet of Ignis and instead of getting assaulted, is offered a helping hand to get back to her feet. There's a quick handshake and a mouthed 'thank you' before the pair turn and dodge a double clothesline attempt from Matt Stone, both slipping behind to take him down with a tandem Russian legsweep. Lewis immediately drops an elbow into the middle of Stone's back, screaming "THAT WAS FOR THE MOZZA STICKS!"
Tolson has made it back on the right side of the ropes just as Ignis dives at her and she's ready for it, catching The Firebird with a grounded front chancery! Logan's still wailing away on the downed Stone, kicking and stomping wildly but it's effective enough to keep him turtled up and crawling away from the impact rather than laying into her. Finally, Stone grabs her foot and wrenches her off balance. Ignis has Tolson in an arm wringer – ANOTHER REVERSAL AS TOLSON FLIPS OVER AND KICKS FREE, SWEEPING IGNIS TO THE MAT! She turns around and Stone grabs her, tossing her at the ropes with a belly to belly suplex. Tolson collides and Logan Lewis dives at her, taking Tolson right over the ropes. The veteran hits the floor hard, disbelief written all over her face! She looks horrified and dismayed and the crowd seems to be right there with her as they boo mercilessly for the elimination.
SAMANTHA TOLSON HAS BEEN ELIMINATED!
Logan Lewis points and laughs, forgetting herself for the moment and it's just enough of a rookie mistake for Matt Stone to capitalize on as he catches her with a running superkick just as she turns around. She's facing the wrong way to do anything to stop the tumble and a moment later she's on the floor next to Tolson, fuming.
LOGAN LEWIS HAS BEEN ELIMINATED!
Stone doesn't take time to gloat, immediately turning around just as Ignis launches herself with a springboard. Stone moves at the last second, causing The Firebird to meet nothing but canvas. Stone rolls up, and lunges at the downed The Firebird, tackling and laying into her with a Thesz press. He then hoists The Firebird up into the air, positioning her on the top turnbuckle pad. Stone climbs up and hooks The Firebird with a headlock, preparing for a superplex – OH MY GOD! Logan Lewis is up on the apron and she punches Matt Stone right in the unmentionables. Thankfully he falls backwards into the ring but he takes Ignis with him and she lands awkwardly. Both are motionless for the moment as Ref Stef tries to eject Logan Lewis from ringside. Ignis is up first and she runs to the opposite ropes, and comes flying back with an asai moonsault. The Firebird raises a fist to the crowd and they pop loudly as she runs across and superkicks Logan Lewis off the apron as she's in the middle of arguing with the official. She turns around and right into a S-T-Owned (running STO) that turns her inside out! Stone scoops her up and runs at the ropes, looking for a running slam but Ignis manages to slip free and she swings off the top rope to catch Stone in the face with her knees. He staggers back and she springboards off for a spiral leg drop – NO! STONE CATCHES HER ON THE COLLISION AND SHIFTS HIS MOMENTUM! THEY BOTH COLLIDE WITH THE ROPES AND GO OVER – HOLY SHIT! IGNIS HOOKS THE ROPE AND STONE CRASHES TO THE FLOOR, TOUCHING DOWN A SPLIT SECOND AFTER THE FIREBIRD'S FEET DO! It's so quick that the cameras don't catch it before she's rolling back onto the apron and she almost seems out of it from the impact. Stone is screaming that her feet touched the floor before he did but it's lost in the roar of the crowd as Ref Stef kneels down and raises the hand of Ignis!
MATT STONE HAS BEEN ELIMINATED!
WINNER (VIA ELIMINATION): IGNIS
Matt Stone is absolutely losing his mind at ringside, demanding that someone watch the replay. He goes over to the timekeeper's table, pleading with them to review the footage and either overturn the declaration of The Firebird as the winner or restart the match, as though this is a hockey game and he can challenge a questionable play! When he's ignored, Stone flips the table and storms up the ramp. Ignis finally makes it to her feet and she watches him go, looking quite upset although it's not clear if it's over his tirade or the fact that she knows he's right that she doesn't deserve to be the winner. The view cuts away to backstage again.
CUT TO:
INT. ELDORADO CASINO -- MEDICAL OFFICES

Battered and bruised with flecks of blood drying on his face, MATT KNOX steps out into the hallway from Doc Devereaux's office. He pulls his cell phone from his pocket and checks the display, actually limping a few steps before crashing right into that whiteboard with the tag team details written on it because he's not paying attention to his surroundings. Sheer instinct has him grabbing it before it crashes to the floor and when he rights it, he blinks a few times, puzzled to see his own name written there.

MATT KNOX
...the fuck?

For the life of him, he can't remember signing up to take part in this. It isn't until he tries to wrap his head around the team name that it dawns on him.

MATT KNOX
Chartreuse. Isn't that neon yellow?

??
Actually no, it's precisely 50% of the way between yellow and green.

He turns around slowly, clearly in agony to find himself face to face with THE DUCHESS OF PORK herself.

REGAN VOORHEES
It's actually called that because of its resemblance to the green color of a French liqueur called 'Green Chartreuse'. It's not yellow. It's not green. It's CHARTREUSE.

Knox stares at her for a good fifteen seconds, wondering if he's actually died during his match with Scott Dunn and this is some sort of twisted Hell-scape. Or maybe a delusion. Or a coma dream. It isn't until the blond reaches out and pats him on the cheek that he snaps out of it, the touch setting his nerve endings on fire and he grabs her wrist, holding it for a few seconds in a death grip as he glares at her.

MATT KNOX
I don't know what game you're playing but I'm not-

JACKSON
You touched the lime green ball, kid.

Knox drops Regan's hand, slowly turning his head as much as he can to see the General Manager's standing behind him.

JACKSON
Trashed the bingo drum, too. I'm gonna have to buy the Rotarians a new one. Forgive me if I'm not feeling particularly magnanimous after that little stunt you pulled tonight. Between you and JC, we're running shows now to pay for damages. You touched the ball. You're in the tag tournament. Deal with it.

He shoves past the pair, making his way down the hall and grumbling to himself. Knox stares at his apparent tag team partner in dismay and dawning horror. She pulls a little packet of sanitizing wipes from her tiny clutch purse and cleans her wrist where he touched her and then her hands. Balling it up, she throws it in his face and then turns to walk away, calling back over her shoulder.

REGAN VOORHEES
Toodles. I'll have my people call your people...


_____________________________________________


CUT TO:
INT. ELDORADO CASINO -- BACKSTAGE

We open up to a view of the locker room which is surprisingly empty save for a single figure seated on a bench. That figure is of course the "OLD SCHOOL COOL" DON TIRRI, one half of the night's main event. Tirri is already dressed for action, just finishing up lacing his boots. You can see his head bobbing up and down like he is listening to something and you can catch a glimpse of an earphone in his ear. He glances up and pulls the phones off.
DON TIRRI

Heh. I was wondering when you'd come and find me. Big night right? I know. That's why I've been keeping to myself almost all night despite having more than a few chances to go out and about to mingle with the fans. But tonight isn't about fan interaction or merch sales. Tonight is about one thing and one thing alone. The UPRISING championship. And while I've been mentally preparing for the match, there is one song that has constantly come to mind, a song that describes tonight almost perfectly.
Tirri reaches for his phone, unplugs the headphones and presses play. We are treated to the soft voice of Russell Watson accompanied by a calm ballad-like playing.
SONG

It's been a long road
Getting from there to here
It's been a long time
But my time is finally near
And I can feel the change in the wind right now
Nothing's in my way
And they're not gonna hold me down no more
No, they're not gonna hold me down
You can see the veteran looking wistfully into empty space as he listens to the lyrics, the slightest of smiles on the corner of his mouth. He pauses the song with a deep sigh and speaks up, his voice being uncharacteristically somber.
DON TIRRI

I've said this several times over the past few weeks but it bears repeating. It's been over 20 years since I last had a chance of claiming the most prestigious prize in a company. Over 20 years since I last was within reach of being the top star of a company. My career started with a bang… and for the longest time it looked like I peaked only a few years into it. But tonight I have a chance to make it all right. To finally fulfill the potential I've had since I was a wet-behind-the-ears kid back home in Finland and especially when touring the UK. Like the lyrics on that song say. It's been a long road, getting from there to here. But no matter how many times I look back on my career. No matter how many times I think back to all the opportunities I've wasted, how many bridges I've burned and how many times I've ended up with an egg on my face… I have zero regrets. Because no matter how you spin it, all those hardships have made me the man I am today. Right now, I am stronger both mentally and physically than I have ever been. Tonight I am going to make it all worth it. Because I have Faith of the Heart.
Giving a faint smile to the camera, Tirri clicks on his phone and the song starts playing again, right from the chorus.
SONG

'Cause I've got faith of the heart
I'm going where my heart will take me
I've got faith to believe
I can do anything
I've got strength of the soul
And no one's gonna bend or break me
I can reach any star
I've got faith
I've got faith, faith of the heart
Again pausing the song, Tirri lifts his hand so that the camera can see the small tremble that his fingers and hand has.
DON TIRRI

See this? This is not a sign of an impending case of Parkinson's or any other age related thing that people love to throw my way. No. This is a sign of nervousness. Excitement. It shows that I am human. It shows that after all these years in this business...I still care. Considering all the shit I have gone through throughout the 25 years I have been in this business, be it self-inflicted or otherwise, a lesser man would be forgiven for having hung up his boots long ago. But I didn't. No matter the obstacle life threw my way, I persevered. I've been down to the deepest depths a wrestler and a man can be. And I've never lost my passion. My drive. I've always clawed my way back. Never to the very top… until now. It's been a long night… but now it's finally over.
With a flick of his finger the song begins to play again.
SONG

It's been a long night
Trying to find my way
Been through the darkness
Now I finally have my day
And I will see my dream come alive at last
I will touch the sky
And they're not gonna hold me down no more
No, they're not gonna change my mind
This time Tirri doesn't even pause the song as it reaches its chorus again, merely turning the volume down a bit and leaning back, staring at the ceiling.
DON TIRRI
Luther. We've had a lot to say to each other over these weeks. We have both talked the talk. But now the time for talking is over. Now all remains is seeing who ultimately walks the walk. I can promise you one thing: I will leave everything in that ring tonight. If you want to claim the UPRISING belt as your own you're gonna have to beat me so thoroughly that I won't be able to walk out of that ring under my own power. Because as long as I can throw a punch or even get up to my knees… I will keep fighting. I will use every single bit of experience I have accumulated over the years to find an opening and turn the fight into my favor. I will use every single disappointment, screw-job and letdown in my career as fuel to drive me forward. Even if it is the last thing I do in this business Luther, I WILL pin your shoulders to the mat one, two, three. Whatever happens tonight Luther… I am going to make one thing sure: Win, lose or draw I will have no regrets. I will have no what-ifs or buts. Tonight the better man will win. Good luck, Luther Thunder. It's been an honor.
Tirri gets up, stretches and walks towards the door, exiting the locker room as the bridge of 'Faith of the Heart' still plays on the background, transitioning to its final chorus.
CUT TO:
INT. THE SILVER STATE BALLROOM -- THE RING


UPRISING CHAMPIONSHIP TOURNAMENT FINAL
LUTHER THUNDER vs DON TIRRI
Don Tirri's mouth is already going a mile a minute before the bell rings. Clearly, he's looking to get those last-minute hooks in deep under the skin of Luther Thunder. Thunder steps back from Tirri, clearly unimpressed by the tactics as he rolls his shoulders, glancing to where his wife stands at ringside. The bell rings and the two connect, chest-to-chest for a stare-down before locking up and immediately breaking apart as Tirri tries to overpower Luther, but Thunder shoves Tirri away, rearing back with one massive fist and connecting with a STIFF European uppercut. Tirri doesn't go down although he does stagger back from the impact so Luther's happy to nail him with a series of strikes before a palm thrust to the face almost shatters the Finn's nose on impact. Tirri laughs it off and they circle each other again. Tirri rushes Thunder, pushing him back against the ropes. Thunder responds with a vicious kick into Tirri's midsection and then a punch to the throat that leaves him gasping for air. He goes down hard and Luther's happy to help him with that breathing issue by applying a boot choke in the corner. He waits until Ref Stef forces the break and then immediately starts laying the boots to him with a thunderous mudhole stomping before dropping down, looking to nail a mounted punch but Tirri's got other plans as he rakes the eyes and slithers out from under Luther as the bigger Dutchman falls back.
They're both back up pretty quickly, both determined to be the first to carry the mantle of champion – this time Tirri seems to get the upper hand with some well-timed punches before he gets hold of Thunder and takes him up and over with a stalling suplex. Tirri springs off the ropes, looking for a little momentum for a telegraphed DDT but Thunder's up too quick and he nails a big boot to the face that busts Tirri open over the eye. Tirri's pissed when he realizes he's bleeding and he dives in with a quick clothesline that takes Thunder down – NOPE! HE'S BACK UP IN AN INSTANT AND RIGHT BACK IN TIRRI'S FACE. NEITHER MAN WANTS TO GIVE AN INCH HERE AND IT'S AN ABSOLUTE SLUGFEST AS THEY BOTH START TRADING DEVASTATINGLY STIFF BLOWS. Tirri catches Thunder with an armbar and gets swept off his feet and right Into the Styx (spinning spinebuster) that lands with a sickening thud. Luther drives a knee into Tirri's throat and then makes the first cover of the match!
ONE!
TW—NO!
Tirri's barely breathing but he kicks out! Thunder drives the knee into Tirri's sternum again, driving him down before moving into a chokehold with an armlock. Unfortunately, they're close enough to the ropes that Tirri gets his foot up and buys himself a reprieve. Thunder backs off and both men hit their feet, Tirri still looking a little winded as Thunder goes for a reverse neck breaker – REVERSAL INTO A BACKSLIDE AND TIRRI'S GOT A HANDFUL OF THE TIGHTS AND HIS FEET ON THE ROPES!
ONE!
TW—NO!
Thunder kicks out with authority and then rolls out of the ring, needing to regroup. He turns around as the crowd pops and gets hit with a baseball slide to the face. He goes down hard and Tirri drops an Old School Elbow on him from the apron. Tirri helps Thunder to his feet again, grinning as The Dutchman seems a little unsteady now. He almost looks like he can taste the victory as he grabs the back of Luther's head and rolls him back into the ring, helping him to his feet. He shoves Luther at the ropes and then connects with a stunning high knee strike as Thunder comes back. He drops, rolling through into a schoolboy – IMMEDIATE REVERSAL! Thunder nails another throat punch before they're back up and he scoops Tirri up – The Judgement (military press slam) and it's hard enough to shake the ring. The crowd is going insane with a huge mixed response and Thunder reaches down to grab the Finn only to get nailed with a low blow.
Tirri snaps Thunder's head back with a wicked springboard forearm smash, only to have Thunder stagger up, and come lurching at him like a juggernaut, battling back, driving Tirri into the corner with a series of stiff chops. Tirri ducks, and scrambles out of the way, locking his arms around Thunder's midsection – the waistlock suplex is denied as Thunder nails a back elbow to the face and then spins around to kick him in the guts before another throat punch leaves Tirri gasping for air. Luther pours out the Wrath of God (Garvin stomp) and then looks for a flying fistdrop – NO! TIRRI MOVES AT THE LAST. POSSIBLE. SECOND! Crash and burn for Luther Thunder and he's caught in Daddy's Chokeout (seated high angle sleeper hold)! Luther's trying like hell to break free but both men are obviously half dead from all the damage they've been inflicting so far. Somehow, someway, he gets his foot over the bottom rope and Esme screams for the official to force a break!
Thunder is up first, and he leans in the corner, trying to find the energy to continue. Suddenly the crowd erupts in a wall of noise, and Thunder whirls around just in time to find Tirri leaping from the turnbuckle across from him, looking for a coast-to-coast splash, instead connecting with Thunder's boot, right to the face – THUNDERSTRUCK! Tirri hits the mat like a ton of bricks, blood spraying from his mouth, and Thunder pulls him back up, putting him in position for Sword Of Damocles (crucifix powerbomb)! He nails the vicious move, and drops for the cover, hooking both legs in the middle of the ring!
ONE!
TWO!
THREE!
WINNER (VIA PINFALL): LUTHER THUNDER

Don Tirri gets his shoulder up but it's a split second too late! Thunder falls back, looking stunned that he's managed to pull off what he'd promised to do earlier and then he's handed that gorgeous belt. He hugs it to his chest, staggering up to his feet as the crowd continues to react, so loud they're drowning out 'Human' by Rag 'n' Bone Man. Luther looks down at his fallen foe as Tirri sits up, face bloodied, body battered and bruised. The defeated Finn says something that's lost in the roar of the crowd and Thunder simply shakes his head, turning away as he holds the belt up in the air. That triumphant image of the very first UPRISING CHAMPION Luther Thunder is the last thing seen before the credits roll.


_____________________________________________


© UPRISING 2021
____________________________________________
QUICKIE RESULTS:
SMILES PROTECTION AGENCY vs
THE GEMSTONES
MAD MAX vs SAVANNAH ANDREWS
REGAN VOORHEES
vs KALINDA KRIEGSDOTTIR
MICHAEL MAROU vs
SUPREME MACHINE
AMBER RYAN vs JENSON IDOL
CHRIS MOSH vs MAC BANE
SATIVA NEVAEH
vs KENDRICK KROSS
RICKY RHODES vs TINY TIM BUSCH
SAW vs H.O.T
"THE ANSWER" JC vs LEGION
MATTHEW KNOX
vs SCOTT DUNN
MATT STONE
vs IGNIS vs LOGAN LEWIS vs SAMANTHA TOLSON vs AIDEN ROMERO
LUTHER THUNDER
vs DON TIRRI